The devastating thing Dumbledore sees in the Mirror of Erised in the new Fantastic Beasts 2 trailer
We're not crying, you're crying.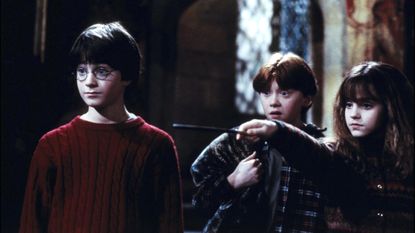 (Image credit: Gamma-Rapho via Getty Images)
We're not crying, you're crying.
Since the second trailer Fantastic Beasts: The Crimes of Grindelwald came out yesterday, over two million people watched rapturously as Newt Scamander fended off a table-shaped boggart and basked in the return of Hogwarts. Well, there's also one moment that I can't shake off that lasts literally all of three seconds but is actually low-key devastating - showing us just how much Albus Dumbledore was in love with his arch-nemesis Grindelwald.
If you cast your mind all the way back to Harry Potter and the Philosopher's Stone, you'll remember that there was a nifty little device called the Mirror of Erised. The idea was that if you looked in it, your heart's greatest desire would be revealed (hence the fact that the name of the mirror is 'desire' spelled backwards and it reads 'I show not your face but your heart's desire' backwards along the top of the frame).
We know now that when our favourite boy wizard Harry Potter looked in it, he saw himself reunited with his dead parents. At the time, he asked Dumbledore what he saw in it and the Hogwarts headmaster told him that he saw 'thick woollen socks' which - okay - is very on brand for the enigmatic professor.
Well, the new Fantastic Beasts trailer shows us that Dumbledore might have been lying. It's a blink and you'll miss it moment at around the 1.30 mark, where Jude Law's young Dumbledore talks quietly with Newt Scamander on a bridge about fighting Grindelwald.
As he tells Newt, 'I can't move against Grindelwald', the trailer cuts very suddenly to what seems to be the Mirror of Erised and Dumbledore standing before it. Rather than an underwhelming pair of socks, in the reflection Dumbledore is actually standing side by side with Grindelwald looking into his eyes longingly. Which means that his heart's greatest desire is to be with his one true love, Grindelwald.
I have replayed the two second moment at least six times and I am still shook.
J.K. Rowling revealed in 2017 that Dumbledore was gay and that his fraught romance with Grindelwald was a 'great tragedy', as the two were pitted against one another during a magical war. Earlier this February however, Potterheads were outraged when Fantastic Beasts 2 director David Yates said that they would 'not explicitly' be touching on Dumbledore's sexuality in this instalment. However, as J.K. Rowling said in a later statement, there's a possibility we might see more of their romance in the later instalments.
Fingers crossed we get more than just a longing glance in the mirror, as it's vitally important that we see more mainstream representation of all sexualities in Hollywood rather than just a couple of Easter egg moments. Representation aside, I'm also just ready to sink my teeth into a weepy tragic romance - a girl's got cathartic needs.
Celebrity news, beauty, fashion advice, and fascinating features, delivered straight to your inbox!
Megan is a freelance journalist who covers entertainment and all things lifestyle, with a particular passion for fashion, beauty, travel and Keanu Reeves stories. She has previously worked on staff for titles including Marie Claire UK, CNN Style and The Evening Standard and has written for titles such as Bustle UK, Wallpaper*, Forbes and Hong Kong Tatler. She splits her time between London and her hometown Hong Kong, where she currently lives with the love of her life - an elderly dog named Poppy - and her husband.