11 Fierce Leading Ladies That'll Inspire You To Take Crap From No One. And We Mean No One
From quashing sexism to building body confidence, these famous outspoken women know exactly how to kick ass...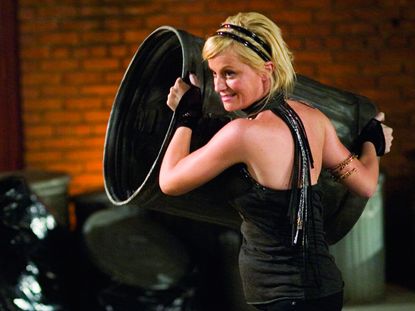 (Image credit: Rex)
From quashing sexism to building body confidence, these famous outspoken women know exactly how to kick ass...
1. Mila Kunis plays bodyguard to JT
Our comedy girl crush defended Friends With Benefits co-star Justin Timberlake after a journalist questioned the Suit & Tie singer's acting talents at a press conference in Moscow. In fluent Russian.
2. Amy Poehler makes a stand for outspoken females worldwide
'I just love bossy women. I could be around them all day. To me, bossy is not a pejorative term at all. It means somebody's passionate and engaged and ambitious and doesn't mind leading.'
3. Helen Mirren speaks out for women who don't want children
'I have no maternal instinct whatsoever,' the actress once said. 'Motherhood holds no interest for me.' Helen, who's been happily married for 15 years, admitted she thought it may happen once, confessing: 'It was not my destiny, I kept thinking it would be, waiting for it to happen, but it never did, and I didn't care what people thought.' But was grateful other women never gave her a hard time, adding: 'It was only boring old men. And whenever they went, "What? No children? Well, you'd better get on with it, old girl," I'd say "No! F*** off!"'
4. Emma Stone (and boyfriend Andrew Garfield) put the paparazzi to good use
Need we say more?
5. Marilyn Monroe provides us with one fabulous life mantra
'Imperfection is beauty, madness is genius and it's better to be absolutely ridiculous than absolutely boring.'
6. Sandra Bullock turns bad experiences into valuable life lessons
'Junior High was not a good time, I'd just come back from living in Europe and I was very, er, Germanic so you could say. I was not well liked… I call it ass-kicking, they now call it bullying,' Sandra revealed. 'Secretly, once you get through that, you have so much more empathy for people and you just think "why would people do that?" And now, everyone who is unique you cheer for because you know how brave it is for people who are in social circles full of normal people to stand out.'
7. Rebel Wilson reminds us to be totally awesome
'I don't really care what I look like that much, and I think women out there should just be happy with the way they look. They shouldn't really try to conform to any kind of stereotype. Just be happy and hopefully healthy,' said the Aussie actress before leaving us in stitches with this side-splitting performance at the MTV Music Awards...
8. Angelina Jolie takes charge of her own future
Opting for a preventative double mastectomy to reduce her risk of cancer, Ange raised awareness and brought the risks of breast and ovarian cancer into the public eye after bravely deciding to go public with her decision.
9. Jennifer Aniston reinforces self worth
'A relationship isn't going to make me survive. It's the cherry on top.'
10. Jennifer Lawrence refreshes us once again
'The word fat, I just think it should be illegal to call somebody fat on TV. I mean, if we're regulating cigarettes and sex and cuss words because of the effect they have on our younger generation, why aren't we regulating things like calling people fat?'
11. Emma Thompson sticks two fingers up to stilettos
'I've taken my heels off as a feminist statement really, because why do we wear them? They're so painful. And pointless, really. You know, I really would like to urge everyone to stop it. Just stop it. Don't wear them anymore. You just can't walk in them, and I'm so comfortable now.'
Celebrity news, beauty, fashion advice, and fascinating features, delivered straight to your inbox!