Movies 2015: 10 new films we can't wait to watch
Whether you're all about a blockbuster franchise, a stellar adaptation or an arty French flick, 2015 is set to seriously deliver on the big screen. Here's our pick of the best...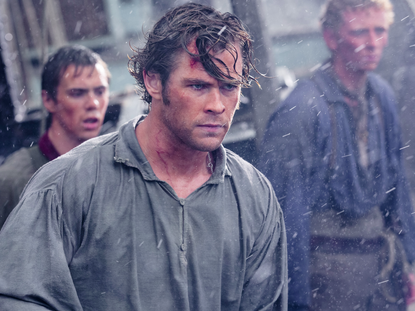 Whether you're all about a blockbuster franchise, a stellar adaptation or an arty French flick, 2015 is set to seriously deliver on the big screen. Here's our pick of the best...
In The Heart of the Sea As if Nathaniel Philbrick's bestselling book In The Heart of The Sea – about the loss of the Whaleship Essex in the Pacific Ocean in 1820 – wasn't epic enough, this action-packed adaptation is directed by none other than Ron Howard (of A Beautiful Mind or, well, Happy Days fame). Oh, and then there's the cast list that reads like a dream (boat). Enter Chris Hemsworth, Cillian Murphy and Ben Whishaw. Sigh.
While We're Young Loved Frances Ha? Noah Baumbach (who co-wrote it with girlfriend Greta Gerwig) is back with one of 2015's hottest indie films. And since he's tackled 20-something hipsters, he's more preoccupied with middle age anxiety as Ben Stiller and Naomi Watts try and come to terms with their childless existence when everyone around them has babies. Naturally they start hanging out with much-younger hipsters Adam Driver and Amanda Seyfried. Well, you would, wouldn't you?
Clouds of Sils Maria Lauded by Palme d'Or/Cannes/you name it, this compulsive tale of a veteran actress (Juliette Binoche) who agrees to take part in the revival of a play that made her famous twenty years earlier is captivating. Co-starring Kristen Stewart and Chloe Grace Moretz, it's also surprisingly stylish – Chanel are behind all the costumes. Nice.
High-Rise Based on J.G. Ballard's 1975 novel, the combo of director Ben 'Sightseers' Wheatley and casting of Tom Hiddleston, Elisabeth Moss and Sienna Miller goes some way to guarantee this will be one super cool adaptation. And this is going to be some year for Sienna.
The New Girlfriend Ticking the art house box is this chilling French adaptation (of sorts) of a Ruth Rendell short story, about a woman who discovers her deceased BBF's husband has a major skeleton in his closet. You'll likely recognize Romain Duris from charming 2012 French rom-com Populaire. Zut alors, a star is born!
Magic Mike XXL Love it or loathe it (it was a bit like marmite, no?), Mike (Channing Tatum) and his brood of strippers are back in the summer, with the action taking them on the road to a stripping convention. There's no Matthew McConaughey (couldn't really picture it after The Dallas Buyers Club) but there is a host of newbies including the uber sassy Amber Heard.
Spectre The highly anticipated 24th Bond movie – Daniel Craig's fourth – reunites reliable regulars (Ben Whishaw and Naomi Watts) with some cool new additions, namely French Blue Is The Warmest Colour star Lea Seydoux. Yep, Bond just got edgy.
Star Wars: Episode VII – The Force Awakens Set thirty years after The Return of The Jedi, The Force Awakens reaches the franchise's widest audience yet, combining old school legends – Harrison Ford and Carrie Fisher – with some of the hottest new stars like Gwendoline Christie, Adam Driver and Lupita Nyong'O. We've been dying to see more of Ms Lupita since her star turn in 12 Years A Slave, and something tells us this will be worth the wait…
Suffragette Move over Sienna, if there's any other actress who's having a serious moment in 2015, it's Carey Mulligan, who heads up Abi Morgan's thought-provoking film about members of the British women's suffrage movement. Meryl Streep plays Emmeline Pankhurst and word has it, it's the first film in history to be shot at the Houses of Parliament.
Far From The Madding Crowd Some know it as a Thomas Hardy novel, for others it's a pub in Oxford… but in 2015 it's set to be one of the hottest period dramas on the big screen. Carey Mulligan owns it but we also love Juno Temple, Tom Sturridge… and Belgian Ryan Gosling-alike Matthias Schoenaerts definitely won't go unnoticed.
Celebrity news, beauty, fashion advice, and fascinating features, delivered straight to your inbox!