One brave writer opens up about being raped whilst on holiday
Niyc Pidgeon was in Spain with friends when she was brutally attacked.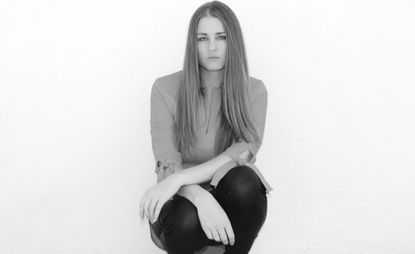 Niyc Pidgeon was in Spain with friends when she was brutally attacked.
I was 24 and in the last few months of studying for my master's in positive psychology when I went on holiday to Spain with two friends and their mums. I'd split up with my boyfriend of two years, so a girls' trip away was just what I needed.
I met Victor one night at a beach club two days into the holiday on a night out with everyone. He was 39, tall and athletic, with short brown hair. He ran a business and his friend Alexander, who was smaller and skinnier, worked for him. Although their English wasn't great – they were Eastern European – they were likeable and funny. We all shared a bottle of champagne. Then, two days later on my last day before flying home, we met for lunch back at the beach club. There was no hint of romance at all, just friends having fun. I remember us all sitting at a big table with my friends' mums chatting about our home countries and comparing lifestyles. This time Victor and Alexander were with two female friends.
As a psychologist I'm used to 'reading' people and nothing seemed odd about the men's behaviour on either of these occasions, and the fact that they were with women was reassuring. The only thing that appeared slightly off was that Victor was a little controlling when we were talking about how I'd get to the airport that afternoon. I was flying back ahead of my friends for work, and when I said I was planning to take the bus Victor insisted I go in a taxi, implying that the bus wasn't good enough for me.
When my cab pulled up later, to my surprise, Victor climbed into the back seat after me. It seemed a little weird that he was coming to the airport, but I wasn't worried. After all, we'd just spent the afternoon together as a group. As we set off, though, I realised that Victor knew the male driver. Again it was strange, but I assumed it must be a taxi company he used or his own private driver. I remember them discussing the music and putting on something foreign that I couldn't understand. Then things changed. Victor suddenly turned towards me and forcefully pinned me down. I screamed for him to get off, but the driver kept his gaze fixed ahead, pretending to be oblivious. I began shouting as his intentions dawned on me. He was going to rape me. 'No, don't!' I yelled, trying desperately to fight him off, clawing at him with my nails, which were breaking and bleeding as I struggled with him. But he was too strong. Within minutes he was forcing himself on me, raping me in the back of the car in broad daylight while the blaring music rang in my ears. My memories of being in the taxi are of me shaking and crying as we made our way through winding roads. And I occasionally caught glimpses of mountains and blue sky, desperately wondering how or if I would escape.
When we finally got to the airport, I clung to the car seat in shock. Victor got out as if nothing had happened and handed me my bags, then I staggered into the terminal in tears. I remember a girl asking me if I was OK. When I blurted out what had happened, she asked if I wanted to go to hospital. She told me she'd recognised me from the beach club where we'd been the night we met Victor and said the men were renowned criminals. Check-in was about to close, so I decided against reporting the rape and ran to catch my flight. Once onboard, I hid my face under my hoodie, desperate for sleep to relieve me of the pain.
The next morning, I woke up in my flat feeling sick, shocked and violated. I thought about going to the police, but was scared that Victor would track me down and come after me. The most I could bring myself to do was text my two friends who had met him. They were horrified and in total disbelief. But I couldn't talk about it. I just wanted to block it out and get on with my life. This became a coping mechanism for the next two years. I repressed the attack, and in time felt it had gone away. When I met my friends from that holiday it was 'the elephant in the room' and yet I couldn't bring myself to address it.
Looking back, I now recognise I was showing early signs of rape trauma syndrome, a type of post-traumatic stress disorder. I threw myself into my work and studies, and became obsessive about exercise, visiting the gym twice a day. It was my way of mentally escaping the ordeal. Strangely, my new sense of focus paid off, and after finishing my MSc in September 2012 (five months after returning from Spain) I launched my business later that year – a motivational coaching company. It became very successful and I won several awards, including Young Entrepreneur of the Year. But two years later, I couldn't hold it together any more and reached crisis point. Lying in bed with a chest infection, I began to hallucinate and had terrifying flashbacks to the rape. In some episodes I saw Victor standing behind me. I was also terrorised by nightmares. I think of it now as a breakthrough rather than a breakdown, as I was finally ready to address the attack.
I decided the time had come to tell my parents. Before, I'd been too worried about how it would make them feel. Of course, they were shocked and horrified I'd been through this without telling anyone, and suggested counselling. Once I started to process the trauma, the next stage of my journey began. I felt constantly exhausted and was diagnosed with adrenal fatigue. I put on weight and realised that I was trying to make myself less attractive, so my body would protect me. Before a meeting with a client, I'd wait in the car park sobbing.
My ten months of counselling with Rape Crisis was one of the hardest things I've ever done. I felt so raw that I could only speak to my friends on the phone and made excuses to avoid going out. And yet, over time, the darkness lifted and I began to see how much adversity we can take in life. It sounds odd, but my experience began to change me for the better. Being raped is one of the worst things you can go through, but I feel happier now than I did before the attack. It forced me to work on myself and my mindset, using every positive psychology tool I know. Once I'd been through the healing process, it made me realise that our experiences in life give us so much. I'm now able to help other people; it's allowed me to be their strength.
Today my business is a global online service, I've written a book and moved to LA. I also work with UN Women UK and am an ambassador for its Onebracelet campaign to end violence against women. The first time I stood up at an awards ceremony last year and told a room of 100 people that I'd been raped, I was shaking with fear. But afterwards, some of them came over in tears, saying how much I'd helped them. My message to everyone is to understand that while your experiences are part of your story, they don't have to hold you back – they can help define you in a positive way, too.
Niyc Pidgeon's new book Now Is Your Chance: A 30-Day Guide To Living Your Happiest Life Using Positive Psychology (£10.99, Hay House) is available from niycpidgeon.com. All profits from pre-orders will be donated to UN Women UK. For details visit onebracelet.org.
If you have been affected by rape and need advice or support, please visit rapecrisis.org.uk
Celebrity news, beauty, fashion advice, and fascinating features, delivered straight to your inbox!
The leading destination for fashion, beauty, shopping and finger-on-the-pulse views on the latest issues. Marie Claire's travel content helps you delight in discovering new destinations around the globe, offering a unique – and sometimes unchartered – travel experience. From new hotel openings to the destinations tipped to take over our travel calendars, this iconic name has it covered.