Cara Delevingne talks mentors, mental health and her greatest achievement
She's one of the world's most bankable supermodels with a burgeoning Hollywood career, but it's her next step that she hopes will get people really talking. Kerry Potter heads to Paris for an audience with the unstoppable Ms Delevingne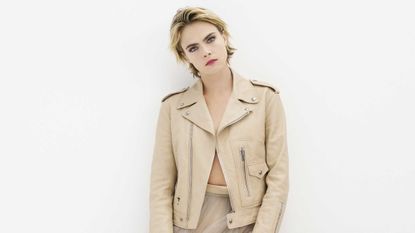 (Image credit: Photographer: Jean-Baptiste Mondino for Parfums Christian Dior Makeup: Peter Philips Styling: Mariel Haenn Hair: Ben Skervin Manicure: Ama Quashie Set Design: Andy Hillman)
She's one of the world's most bankable supermodels with a burgeoning Hollywood career, but it's her next step that she hopes will get people really talking. Kerry Potter heads to Paris for an audience with the unstoppable Ms Delevingne
A conversation with Cara Delevingne is a bit like going down a rabbit hole. You start off politely talking about make-up – the 26-year-old is the new face of Dior Addict Stellar Shine lipstick – and within moments you've zigzagged into feminism, masturbation, depression and her love of Bear Grylls. Curiouser and curiouser.
For a globally famous supermodel – after Kendall Jenner, she was one of the highest paid in the world last year, raking in about £8m – she's pleasingly un-supermodelly. We're sat on a sofa in the sumptuous penthouse suite of a Parisian hotel, surrounded by piles of colourful macarons, vases of plump pink peonies and chic silver bullets of Dior lipsticks. The setting is très French, but Delevingne is exceedingly English. 'Do you mind if I take my shoes off?' she asks in plummy tones. By all means, I say, relax. 'Take it easssssssy!' she trills, bursting into song, slipping off her pointy black flats and curling her long legs beneath her. She's eccentric, effusive and when she can't think of a sufficiently entertaining answer to a question, she swears like Hugh Grant in Four Weddings And A Funeral.
Delevingne may come from a privileged background – her maternal grandmother was once Princess Margaret's lady-in-waiting and her godmother is Joan Collins – but she has an everywoman appeal that's earned her 41.6m followers on Instagram and another 10m on Twitter. It's this frankness and willingness to talk about her mental health, fluid sexuality and tricky teenage years (her mother, Pandora, battled heroin addiction and Delevingne was bullied at school) that have won her a legion of loyal fans.
Eight years since first appearing on a London catwalk, she remains the fashion and beauty industry's favourite poster girl, and she's carving out a promising career in Hollywood. Following breakout roles in Paper Towns (2015), Suicide Squad (2016) and last year's Her Smell, Delevingne will be seen next in her first major TV series, Amazon Prime's neo-Victorian fantasy drama Carnival Row.
'It's one of the most incredible pieces of writing in terms of something that's set in a fantasy world but deals with current affairs, like the refugee crisis and what society needs to do differently,' she explains. 'Hopefully, it will make people think and get them talking. I play this fairy called Vignette Stonemoss who is a survivor, a really strong female lead. I'm a bisexual fairy – what else would you want to be in life?'
What did you want to be when you were growing up?
'I actually wanted to be a taxi driver because I thought they had the best job, being able to pick people up, talk to them and take them to where they wanted to go. They're an integral part of life and we don't appreciate them enough.'
If you could give advice to your 16-year-old self, what would it be?
'That this moment won't last forever; just hold on. Every 16-year-old needs to hear that. Sixteen was one of the worst years of my life, my most depressed age. I just needed to know that (a) I wasn't alone and (b) it was just that moment. Moments are like a river – they keep going.'
Who would play you in a film of your life?
'Chloë Grace Moretz. When I first met her I was like, "You are literally like me. We should play sisters one day." She's a great actress. [Pleased with her casting choice] Woohoo!'
So, what do you consider to be your greatest achievement?
'Being able to help people in small or large ways. There's a group of girls and boys who I've been able to connect with on social media; people who've struggled with their sexuality or depression or family members dying or being bullied. I've been able to support them through these things and see them come out the other side.'
Are you like a mentor?
'I wouldn't say mentor. I like to inspire people, but I let them know I have flaws. If someone comes to me asking for help, I can't say no. I feel it's my job and duty to help. I've been able to meet the most inspiring people and work with them, and I feel like we're moving towards this place where young, influential women are working together and supporting themselves. Women are pitted against each other, but they raise each other up. We are far more powerful together than alone.'
What's been your biggest disappointment?
'I tend to not look at life like that. "My biggest fear is failure" vibe is something I used to feel and now try to shy away from. Any mistakes I've made, have shaped who I am right now. And I'm proud of who I am, so nothing is disappointing… I hate letting other people down, I guess. That sucks.'
'Shaving my head was a big exploration of femininity. I don't need hair to be beautiful'
Do you feel that you have a responsibility to your social media followers?
'Yes. Sometimes, I don't go on social media for a long time or I say something that people don't like, so I lose followers, but that's fine. I'm not pushing my beliefs on anyone, but everyone should have a voice and be heard and everything should be an open conversation.'
When did you last feel really happy?
'I bought a camera recently and, when I had a day off, I created, choreographed and directed a music video in LA. I contacted two dancers I'm a big fan of – a popper and a body breaker – and we spent eight hours filming through the night, from midnight until 8am. It was really cool, and I shocked myself that I could do it.'
That sense of dipping your toe into a different world?
'Yes. I reached out to a friend and said, "Can I use your house as a location?" The power of asking people for help, do you know what I mean? I just went with it. I sometimes limit myself in what I can do. If I believed in myself more, I'd realise I can actually do anything.'
When it comes to beauty, what's been your most transformative moment?
'Shaving my head [in 2017 to play a cancer patient in forthcoming film Life In A Year]. Before, I'd always kept my look very similar. I'd have my hair and make-up done for shoots and go through these transformations, but personally I never did anything – I kept the same haircut and never coloured it. Shaving it all off was a big leap of faith into my own exploration of femininity. It didn't mean that I wasn't beautiful. I learned you don't need hair to be a woman and that my previous beauty ideals weren't true.'
What's your earliest beauty memory? For many of us, it's watching our mum apply lipstick.
'It was less watching my mum put on lipstick and more getting her lipstick and rubbing it all over my face! I was not one to watch, I was one to do. Then, when I was about ten and had these big eyebrows, my mum told me to leave them alone as they were my best feature. I was like, "What are you talking about? I keep getting bullied for having a monobrow." I wanted to make them smaller. Of course if you're being told that you have something horrible on your face you're going to want to change it, but I'm glad that I listened to her.'
I guess you need to thank her now the world is obsessed with your eyebrows.
'I do indeed. Thanks, Mum! You should have seen my grandmother's eyebrows. I have to trim mine every week, but hers were so long they just grew into her eyes. They were exactly the same shape as mine. Sadly, she passed away a few years ago, when she was 102, but my eyebrows remind me of her. It's very sweet, something I feel I am able to carry on.'
Do you have a favourite lip look?
'I love a lipstick in a dark colour like DiorCelestial. You can wear it day and night, and change it from matte to shiny by layering a gloss over the top. I'm someone who eats, talks a lot and is bad at maintaining lipstick, so it's great because it's long-lasting.'
How does wearing lipstick make you feel?
'It's the process of putting it on that I enjoy. It's almost like an intimate experience with yourself, like touching yourself.'
Care to elaborate?
'That sounds a bit weird, ha ha! But it's almost like you are seducing yourself. You're putting something on your lips, you're feeling sexy… it's empowering. And it's not just women; men can wear lipstick, too. It's something they should do more. There's nothing as great as putting lipstick on and having it smudged off later.'
What are your desert island beauty products?
'A good rose mist spray to keep my skin hydrated because I fly a lot. I like to use an anti-ageing moisturiser, like Dior Capture Youth, because prevention is pretty important, especially with the rise of cosmetic surgery. It's better to look after your skin than going for a needle or a knife.'
How do you practise self-care?
'I wouldn't be able to do what I do without any self-care. I go on a yoga and meditation course once a year after [autumn/winter] fashion week. It's a good time to go away because January and February are always very busy. The course is eight hours a day, very intense, and it allows me to connect with myself. And that practice carries me through the year, so it's very important. As a kid, I could just leave my make-up on for days and just carry on, but as I get older, I take self-care more seriously.'
Is there anything people would be surprised to learn about you?
'This is odd, but sometimes I think it might be a good idea to go to military school to give me some boundaries. I'm very physical and love being challenged. I also think Bear Grylls is amazing, and I would like to be left on a desert island. It would be exciting to see the end of the world because I know I'd be able to survive.'
Dior Addict Stellar Shine, £30 (Dior.com), is available now
Celebrity news, beauty, fashion advice, and fascinating features, delivered straight to your inbox!
The leading destination for fashion, beauty, shopping and finger-on-the-pulse views on the latest issues. Marie Claire's travel content helps you delight in discovering new destinations around the globe, offering a unique – and sometimes unchartered – travel experience. From new hotel openings to the destinations tipped to take over our travel calendars, this iconic name has it covered.