'Has it all been worth it?' Deeyah Khan talks to musician M.I.A about family, roots and resilience
With a new documentary out this month, musician M.I.A. chats to film-maker Deeyah Khan about art, controversy and the meaning of wokeness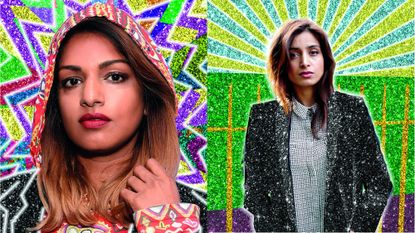 (Image credit: Courtesy)
With a new documentary out this month, musician M.I.A. chats to film-maker Deeyah Khan about art, controversy and the meaning of wokeness
'It's nice to talk to somebody who's also complicated, and I have a feeling you are,' says M.I.A. (otherwise known as Maya) to the film-maker Deeyah Khan. Complicated is one way to describe M.I.A.'s own journey from Sri Lankan refugee living on a London council estate to one of the most provocative and genre-busting artists of her generation. Khan, meanwhile, is the daughter of Afghan and Pakistani immigrants to Norway and a celebrated film-maker and human rights activist (her latest film, White Right: Meeting The Enemy just scored an Emmy nomination). But the two women share more than their multicultural backgrounds. While Khan started out as a musician before becoming a film-maker, M.I.A. wanted to be a documentary-maker, studying film at art school before music took over. In her new documentary Matangi/Maya/M.I.A., we're given a glimpse of this original ambition, as a vast archive of footage shot on her own handheld camera is unearthed and edited by director Stephen Loveridge into a fascinating fly-on-the-wall journey through her early life and rise to global stardom. 'I believe I could talk to you for hours,' says Khan at the beginning of their chat. Over an hour later, they're still going...
Deeyah: I'm sure people have asked you the question, 'Are you an artist who happens to reflect the times we're living in or are you a political artist?'
M.I.A.: I like to be a walking question mark. It's important for me never to be in a box because that box constantly changes, and it literally pulls the rug from under your feet when you least expect it. As soon as I was comfortable being a Tamil girl living in a village in Sri Lanka, I was thrust into a new situation [and] a different box. I was the underprivileged refugee with no money, and a single parent. People constantly try to find those labels, 'Be like this, you're this'. Even with this documentary, it could be, 'Oh, you're just the representative for refugees', but people forget within that box there are so many types…
DK: It's tiring to embody other people's perceptions and limitations. What I admire is that you seem to have become comfortable in your own skin quite early on. For me, that's one thing I struggled with.
M.I.A.: So many girls struggle with that.
DK: It was hard for me to find my own voice. You always had the need to express yourself – I did too, and believe everybody does; it's just a matter of finding what that language is going to be. It seemed like it was present in you early on, but what I didn't realise is that you wanted to be a film-maker initially.
M.I.A.: Yeah, I tried to be a film-maker, but now my friend Steve [Loveridge, who directed her documentary] has beaten me to it.
DK: It's incredible footage in the documentary when you go back to Sri Lanka [in 2001]. Why did you end up filming yourself as much as you did, by the way? Was it just to document?
M.I.A.: When I got to Sri Lanka, because cameras were banned there, I felt like every person I had my camera near was being put in a life-threatening situation. So, I filmed myself to try to articulate what the documentary was becoming.
DK: Have there been any implications for your family who were included in the film?
M.I.A.: My cousin, who says in it, 'Oh, you don't really know the war experience' is telling me that because he'd lived in a refugee camp for 13 years from when I left in 1985. He used to say when fruit fell off a tree, they had to race the animals to get to it first. I didn't think life could be any worse than what he'd been through. He'd suffered so much that I wanted it on tape, because it was important to tell his story. And his sister was just so broken by it; there was a generation of girls growing up in the north who didn't want to draw attention to themselves, they didn't want dress up nice or put new clothes on…
DK: I think it's hard for people to understand the necessity for so many girls and women to make themselves invisible. Just recently, we've seen a young woman in Iran arrested for posting little videos of herself dancing on Instagram. What we, and so many women, take for granted is for others an absolute act of rebellion. But speaking of danger in general, I know that your immediate family is in England. Has your activism caused any pain or difficulties for them?
M.I.A.: My dad was already part of [revolutionary group the Tamil Tigers], so my family were used to dealing with that.
DK: Do you self-censor as a result?
M.I.A.: Yeah. When I made the Born Free video [depicting a genocide of red-haired people that was banned from YouTube], a lot of my family distanced themselves from me.
DK: That's my favourite video of yours, actually.
M.I.A.: They were like, you just don't need to bring that kind of attention. But even in America, successful Tamil people were being targeted and put in jail on the advice of the Sri Lankan government. Whether you were silent or not, it just didn't matter. Now I still feel targeted if I speak about Julian Assange or the Internet or Facebook.
DK: I've always been curious – obviously your past hasn't been easy. You're the first woman of your background to have landed where you are. Has the struggle and pushback you've had been worth it?
M.I.A.: It's too early to say. I value everything equally. Sometimes, I don't see the fights as something terrible, they're almost a necessity. When they show up ignorance, that's when you can work towards creating understanding.
DK: The word 'understanding' is probably at the core of all I try to do. My obsession is to see if we can [recognise] ourselves in others, to empathise with the people who the politicians are creating so much fear around.
M.I.A.: People talk about wokeness as post-2015. The new woke demographic feel life was perfect until Trump won. But for us, the difference between Trump winning or not is like just another pebble in the pond. It's difficult to talk about how long the timeline is when so many people go, 'But life was great before. What are you talking about?'
DK: In America, I find a disconnect from the rest of the planet, an unwillingness to accept something else might be going on other than Trump. You speak to [a lot of] Americans and ask them about their biggest enemy, which at this point feels like 1.8 billion Muslims. And yet all they know about them is stereotypes, whereas people in Muslim countries know so much about US culture. Do you feel your politics is often dismissed?
M.I.A.: Oh yeah.
DK: In the documentary, a Sri Lankan official says, 'She should just stick to what she is good at, which is music.' Does that often get thrown at you?
M.I.A.: Who are they to say I can't? If you take away that voice, you give it to a politician who doesn't come to the war zone, he sits in an office writing orders.
DK: And artists have always been at the front line, telling these stories and raising the alarm.
M.I.A.: In Sri Lanka, women were not scared to fight. They were totally fine cutting their hair short and picking up a gun, because they had no other choice.
DK: The more successful you get, do you feel a responsibility for raising your voice even more, or are there more considerations to take into account? Does the fact that you're a mother have any impact on the activist in you?
M.I.A.: You need to evolve in different directions. If you have respect for life, you exist in a way that understands the fundamental, basic things about what connects us as human beings [it doesn't matter] what religion or road you take.
Matangi/Maya/M.I.A. is in cinemas from 21 September. View Deeyah Khan's Emmy-nominated White Right: Meeting The Enemy and BAFTA-nominated documentary Jihad on Netflix
Celebrity news, beauty, fashion advice, and fascinating features, delivered straight to your inbox!