This is what the Buffy The Vampire Slayer cast look like now
20 years on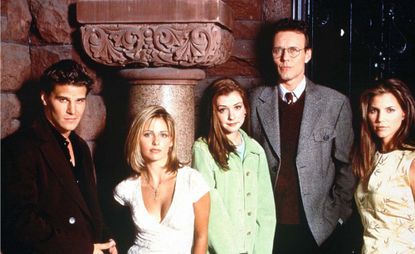 (Image credit: REX/Shutterstock)
20 years on
Whether you were a 90s or 00s teen or a particularly plugged in Millennial, Buffy the Vampire Slayer was a big part of pop culture during its run from 1997 to 2003. In fact, we'd go as far to say that it was one of the best 90s TV shows. There, we said it.
Buffy Summers remains one of the biggest feminist icons on TV since she started kicking supernatural ass during her school years. (Oh, but she had time for regular high school drama too, don't you worry.)
And the Buffy/Angel romance - sheesh, it was epic.
But, how could we forget about the (sort of) triangle with Spike!? It's all coming back to us now... The gasps, the laughs, the tears. It was an emotional rollercoaster.
And now 20 years after Buffy and her crew hit our screens, they've reunited for a mammoth cover shoot for Entertainment Weekly. Basically this is like a high school reunion on speed. Think Sarah Michelle Gellar, Alyson Hannigan, David Boreanaz, James Marsters and Michelle Trachtenberg all together again in one room and one photo.
And look at them all! They're all perfect still (obviously) and it's reminding us of how Xander was the ultimate underdog (he was basically Seth Myers before Seth Myers) and Cordelia had that whole mean girl goes good thing about her. And Wesley. Let's all take a minute to appreciate Wesley...
Heartbreakingly, Giles was missing from the reunion but it was still pretty damn fantastic in our opinions.
'I'm so incredibly proud of what we all created,' Sarah Michelle Gellar has said. 'Sometimes you need distance to really understand the gravitas of that. I appreciate everything about that job. As an actor, all you ever want to do is leave your mark — you want to do something that affects people.'
Celebrity news, beauty, fashion advice, and fascinating features, delivered straight to your inbox!