My most memorable scent
To celebrate National Fragrance Day, Senior Beauty Editor Fiona Embleton reveals the scent that shaped her childhood...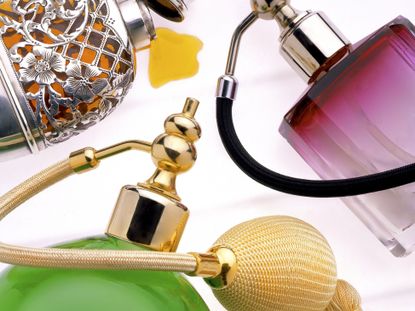 (Image credit: REX/Shutterstock)
To celebrate National Fragrance Day, Senior Beauty Editor Fiona Embleton reveals the scent that shaped her childhood...
I'm standing outside a Parisian pharmacy. Unlike my fellow beauty editors, who are doing their best impression of the running of the bulls in order to stockpile on Embryolisse Lait-Crème Concentre, I'm frozen to the spot sniffing the air. I clearly look like I'm having an extreme reaction to pollen because the confused pharmacist tries to sell me a hay fever spray. In actual fact, it's the smell of 4711 Original Eau de Cologne (£17.49 for 100ml, boots.com) wafting from his shop that has me enthralled and feeling like a car airbag has whacked me in the chest. I do my best to explain, but what I'm experiencing is too private, special – sacred, even - that I do so to little or no avail. You see, that sharp tug of memory you get when you smell something from your past can summon up a tsunami of emotions.
Perfumers go to ingenious lengths to preserve those fleeting moments that we would otherwise lose hold of: your lover smelling of shampoo and skin; the iron tang of summer rain on concrete or the unique smell of your mother's jumper that pulls at your heart. "When you smell something, it travels to your olfactory receptors, which are directly connected to the limbic system of the brain, where emotion and memory are processed," explains perfumer Roja Dove. So among a perfume's other powers, its scent hits you up in the same place where calm, grief and joy resonate from.
In this instance, the scent of 4711 Original Eau de Cologne has spirited me back to childhood summers spent with my grandma in the mountains of Germany's Eifel region - a time wilder and more real than my beige-toned Surrey school days. I can almost feel the dry summer heat, which settled over the hills surrounding her apartment, prickling against my skin. And smell the sweet, sunny scent of hay from horses nearby or the fresh resinous pine needles mingled with dust underfoot in the forest. Above all, I remember languid afternoons curled up against my grandma's sleeping body as we dozed together in the sun. On the breeze that blew warm in our faces, I would pick up the zippy lemon, softly-rounded rose and powdery creaminess of sandalwood that always surrounded her like a fuzzy halo.
Like many women of the post-war generation, my grandma didn't go in for extravagance. So apart from a few treasured pieces of jewellery, her perfume and the memories it wove into the fabric of my life are her enduring legacies to me. Sometimes I twist open the cap to a bottle of 4711 Original Eau de Cologne and I know it will not only bring her back to life, but also whole chapters of my childhood. Other times, like this one outside a tiny Parisian pharmacy, it's just a beautiful surprise when I catch her smell dancing through the air.
What about you? If a perfume summed up your childhood, what would it be?
Celebrity news, beauty, fashion advice, and fascinating features, delivered straight to your inbox!
Fiona Embleton has been a beauty editor for over 10 years, writing and editing beauty copy and testing over 10,000 products. She has previously worked for magazines like Marie Claire, Stylist, Cosmopolitan and Women's Health. Beauty journalism allowed her to marry up her first class degree in English Literature and Language (she's a stickler for grammar and a self-confessed ingredients geek) with a passion for make-up and skincare, photography and catwalk trends.