The Internal Bra: Everything You Need To Know About This New Breast Surgery
This new variation on the traditional breast lift is stirring up controversy. Here's what plastic surgeon Mr Jian Farhadi has to say on the matter.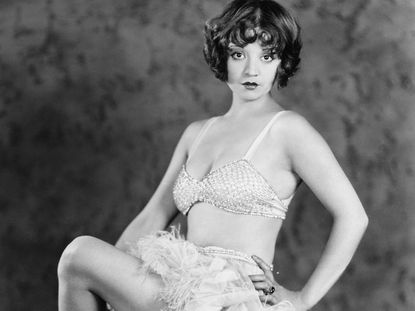 (Image credit: Rex)
This new variation on the traditional breast lift is stirring up controversy. Here's what plastic surgeon Mr Jian Farhadi has to say on the matter.
A new type of breast surgery nicknamed the 'internal bra' has been getting loads of buzz lately. Because of its catchy name, it's been a popular topic on social media - and while some are lauding it as the end of push-up bras, others are calling it a terrifying invention.
We spoke with Mr Jian Farhadi, consultant plastic surgeon at Guy's and St Thomas' NHS, to find out the truth behind the internal bra, a.k.a. the Orbix Breast Support System. And while it's certainly an interesting medical advancement (it's supposed to stop boobs sagging for 10 years as opposed to five with normal surgery), it's not nearly as extreme or controversial as its name suggests. This is what we know:
It's actually quite similar to a normal breast lift. The surgery uses silicone cups that sit under the breast and are held in place by threads attached to the ribs. 'The main difference is that the breast tissue is not relying on the skin envelope for support, but on the silicone sheet inserted,' says Farhadi. 'The other difference to be mentioned is that patients who would have undergone a breast up-lift combined with an implant would not need the implant anymore.' It's only been performed on three patients in the UK. Farhadi is currently leading a clinical trial that involves 10 patients, but only three have had the surgery so far. However, it has been performed in other parts of the world, including Brussels and Tel Aviv. It's not meant as an alternative to a regular bra. The surgery is designed as an alternative to the traditional breast lift or breast reduction surgery. It's not targeted at women who do not actually require breast surgery and is not meant to do the job of a push-up bra, as some headlines have suggested. 'This is sending the wrong message,' says Farhadi. 'This procedure is not to replace a bra.'
It's a major surgery. The internal bra has received a bit of criticism on social media, with some critics calling it a crazy new fad. But it is, in fact, a serious surgical procedure and not a fashion trend. Farhadi says it's 'slightly more invasive' than a traditional breast lift. It could potentially help cancer patients. No breast cancer patients are involved in the initial trial, but it could be beneficial to them in the future. 'It can be used on breast cancer patients to even out the breast if only one has been operated on, leaving them uneven.' It's not scary. Because the threads are attached to the ribcage using screws, the surgery may sound a little off-putting. But Farhadi insists the internal bra doesn't deserve its frightening reputation. 'It should not be scary, as it intends to give longevity to breast reduction and breast lift procedure,' he says. 'The screws inserted in to the rib are only a few millimetres wide. These are usually used for hand surgery and should not cause any pain.' Farhadi also points out the risks involved are the same as with traditional breast surgery, which he says are 'very low.'
Celebrity news, beauty, fashion advice, and fascinating features, delivered straight to your inbox!
Ali Gray is an award-winning content director and digital strategist. Most recently she was the Director of Branded Content at Hearst, and helped to bridge the gap between the editorial and commercial worlds working across all Hearst brands, including ELLE, Cosmopolitan, Esquire and Harper's Bazaar. Prior to that she worked as an editor contributing to several brands such as The Telegraph, iVillage UK.