Is it ever OK for women to fake orgasms?
New research reveals a surprising new reason why women are faking it? Marie Claire investigates...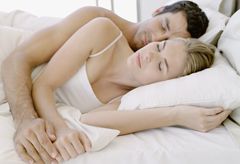 (Image credit: Rex Features)
New research reveals a surprising new reason why women are faking it? Marie Claire investigates...
Have you ever faked an orgasm? Come on, ladies, be honest now... A staggering 60 per cent of women claim to have faked orgasms during sex or oral sex, but what are the real reasons behind it, and what does it say about your relationship?
New research conducted by scientists at Temple University in Pennsylvania has revealed that the reason behind women feigning orgasms has little to do with protecting their partner's ego.
In fact, scientists claim the real reason for it is down to women's own insecurities. It is thought that the fear of intimacy, or the insecurity over how their bodies react during sex, have caused women to fake it.
Erin Cooper, lead researcher in the investigation, revealed to LiveScience: 'We know that this is pretty prevalent in our culture, but we don't know much about it from a scientific standpoint. That to me is a real catastrophe.'
During her experiment, Cooper interviewed 366 women between the ages of 18 to 32 who had admitted to regularly faking it.
The volunteers were questioned about their sexual habits, why they pretended to climax and also how they felt about sexual intimacy.
The reasons were split. While some said they were faking on a regular basis because they felt disconnected from their partner, others explained they were doing it to cover up their embarrassment at not being able to derive pleasure from sex.
Cooper agreed that both the lack of emotional and sexual intimacy were to blame. 'Women who have a hard time getting close to other people on an emotional level are also having a hard time getting close to other people on a sexual level,' she says.
Results from the research revealed many women were feigning sexual pleasure as a way to get it over with as quickly as possible.
Marie Claire's sex columnist, Sam Roddick, says: 'The only, and I mean the only way to have better sex with your partner is to put truth at the heart of your sex life. Show him how he really can satisfy you.
'As women, we've come too far, fought too hard for the right to a fulfilling and liberated sex life to pretend –like 50s housewives - that our own sexual satisfaction doesn't matter.'
Why do you think women are faking? Is it down to women's own insecurities or are they just protecting their partner's ego? Let us know by posting your own opinions and experiences below.
Celebrity news, beauty, fashion advice, and fascinating features, delivered straight to your inbox!
Natalia is a health journalist with 14 years experience in the publishing industry. She has worked for a number of well known magazines and websites including Marie Claire, Woman&Home, Top Sante, Boots and The Telegraph. She likes to think she practices what she preaches when it comes to health and fitness. Her athletic prowess began early. A keen fencer for 13 years, she wielded an epée for Olympic Team GB during her teenage years. She likes to think she made sword-fighting cool before Game of Thrones came along! While working on her sporting performance with the team, she also participated in a lot of nutrition and psychology training, When it comes to time off, you'll most likely find her up a mountain somewhere. It seems holidays have become a time for climbing several thousand feet, rather than chilling out. She's now hiked eight of the major mountain ranges across four continents – including the Appalachians, the Smokies, the Sierra Nevadas (she spent her honeymoon hiking to the top of Half Dome), as well as hitting the summits of Snowdon, Pen-Y-Fan (Brecon Beacons), Table Mountain in South Africa, the Blue Mountains in Australia and the Atlas Mountains in Morocco. She's also passionate about all things health, particularly vaccinations, and will happily jump on her soap box at any given opportunity to talk about their benefits to anyone who will listen!