Sex crimes on campus: The shocking truth behind university rape culture
This month, thousands of female students will head for university, but many will become the victims of sexual assault and harassment. Marie Claire investigates the alarming rise of college rape culture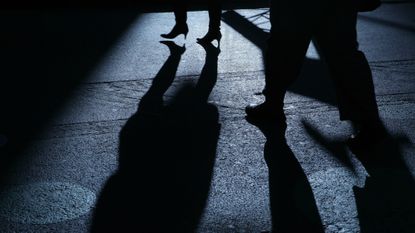 (Image credit: Getty Images)
This month, thousands of female students will head for university, but many will become the victims of sexual assault and harassment. Marie Claire investigates the alarming rise of college rape culture
Words by Polly Dunbar
When Sophie*'s friends said goodbye to her after a night out in October 2014, she was standing in a taxi queue. A second-year history student, she had drunk more than usual that night, but her friends assumed she'd get home safely. When she woke up hours later, she was naked in bed with a stranger. When he began having sex with her, she was powerless, unable to stop him.
'I was so out of it that I could barely speak,' says Sophie, now 21. 'I couldn't process it. I tried to push him off me, but my body felt like it wasn't working, so I just lay there.'
Later, she thought she may have been drugged. 'I had no idea what was happening, except for the fact he'd had sex with me and I hadn't wanted it. In the morning, he was acting like everything was normal. I gathered my things and stumbled home, feeling dirty and sick.
'I never reported what happened because I thought I wouldn't be believed. I blamed myself for being so drunk. Ultimately, though, I was physically incapable of consenting to sex, which means I was raped.'
Now, as thousands of women begin university, they face a culture where harassment and assault is rife. According to the National Union of Students, 68 per cent of women have been the victim of sexual harassment on campus. Meanwhile, the most recent of a number of similar cases – that of Brock Turner, the swimmer at Stanford University who was sentenced to just six months in prison (but served only three) for sexually assaulting a woman while she lay unconscious, highlights the even bigger crisis in the US. There, one in five female students are actually sexually assaulted at university.
These figures point to a wider problem at education institutions on both sides of the Atlantic. Last year, 22-year-old Hannah Stubbs committed suicide six months after she was allegedly sexually assaulted at Keele University. Her grandfather condemned the institution for providing 'inadequate support' to her and failing to suspend her alleged attacker.
Hareem Ghani, women's officer at the NUS, says the prevalence of porn and digital media is part of the problem. 'It's a deeply concerning situation,' she says. 'Sex education in schools is dire, which means young people who've watched porn don't realise it isn't a realistic portrayal of sex. They then go to university without basic knowledge of issues like consent.'
'Then there's also a much wider culture of misogyny – jokes about women's bodies, slut shaming – which perpetuates the problem because it encourages men to behave in a hyper-masculine way, and women to be the "cool girl", doing things even if they don't want to.'
It's a disturbing culture that pervades campuses, and one which most female students agree is sadly part of the university experience. It manifests itself in women being heckled or rated on their attractiveness or body parts, groped in nightclubs and humiliated on social media for entertainment. It's exacerbated by the vast quantities of alcohol many students consume, particularly during freshers' week, when they're encouraged to get drunk on cheap deals sponsored by alcohol brands. Rape is joked about, as in the case of the rugby club at Durham University, who played a drinking game called, 'It's not rape if.'
This is a culture Rowena Lewis, 26, experienced while studying for her degree in film at the University of Hertfordshire. She graduated last year and was shocked by the attitudes she encountered. 'Lad culture was everywhere,' she says. 'A lot of it centred around male students describing girls as "easy" or "frigid" and rating their sexual performance. They would try to grab each other's phones and send messages to girls they thought were unattractive, for a laugh.
'Another game involved trying to persuade girls to go topless on Snapchat, and if they managed it, they'd win points for it. I lost track of the times I was catcalled – they'd shout sexual comments to try to intimidate you. It was depressing.'
The behaviour even continued in lectures, where Rowena often saw men on her course watching Dapper Laughs, the comedian who caused outrage when he joked, 'She's gagging for a rape,' during a performance. 'When I attempted to point out that joking about rape normalises it, they called me a "lesbian" and a "bra-burner."'
Lucy Ward*, a student at Oxford University, describes the drinking games designed to degrade women. 'There's a game called "sconcing", in which someone says, "I sconce anyone who…" and then they'll name a sexual act a woman would perform. Anybody who's done it has to stand up and drink. It's used as a way to humiliate women.
'On a night out, men will grab your bottom or try to put their hands up your skirt. They'll carry on, even when you tell them to stop.'
Smartphone technology has only intensified the humiliation because now harassment and bullying can be shared to wider audiences in seconds. The result is not unlike revenge porn. Claire Hall*, a recent graduate, knows first-hand the pain this causes. 'Two guys I met when I was working in a student nightclub started harassing me, sending me abusive text messages,' she says. 'Then I found out they'd been in touch with my ex-boyfriend, trying to obtain naked pictures of me. He refused, but a friend of mine quit uni because she slept with a guy who, unbeknown to her, filmed it and then put the footage online.'
This contributes to a worrying climate online in which the perpetrators of sexual violence are condoned, while blame and degradation rests with the victims. Sarah Redrup, a former politics and philosophy student at Bristol University, says she suffered in silence after her own traumatic experience because she feared she herself would be blamed and she'd fail to get the support she needed.
After a night out, she blacked out, despite drinking less than usual, and woke up in a stranger's room wearing just her bra. 'I felt someone kissing my back,' she says. 'I turned over in panic and saw the guy my friend and I had been trying to ditch all evening in the club. The last thing I remember was falling down the stairs in the club and him helping me up.
'Immediately, I blamed myself. I didn't even ask him what happened or whether he used a condom; I just found my clothes and let him walk me to the bus stop. I didn't go to the police because I'd been through a similar experience as a teenager and, back then, the police dropped the case without even suggesting counselling or charities to consult.'
Government guidelines advise universities not to conduct their own investigations into complaints of sexual assault but to refer them to police to deal with. There have also been a number of campaigns by police forces encouraging women to come forward to report incidents. But groups such as the NUS and End Violence Against Women have argued this approach means victims who choose not to go to the police have not been supported by their universities. It's estimated that only 15 per cent of victims report their experiences to police.
Ghani says, 'Universities are not giving perpetrators the penalties they should, but they're also not providing enough support for the survivors. Our #StandByMe campaign is asking them to provide a proper duty of care to students.'
Increasingly, female students are forming their own support networks – such as the Survivors' Network in Bristol, set up by Redrup and fellow student Megan Wilson. 'It's a safe space for survivors to reclaim their experiences,' says Redrup.
Another group is It Happens Here, started at Oxford University to give survivors a platform to share experiences anonymously. Along with other similar groups around the country, it runs consent workshops to educate young men and women. Many student unions have also launched campaigns.
In some cases, however, they've been met with protests by male students outraged by the idea they need to be taught not to rape. George Lawlor, a Warwick student, wrote a piece for the student publication The Tab in which he said, 'I already know what is and isn't consent' and branded the workshops 'hurtful'. It sparked controversy, but many male students praised him for the reminder that those who assault women are in a small minority.
The website Unilad has attracted fierce criticism for featuring casual jokes about rape. It was temporarily deactivated after running an article which 'joked', '85 per cent of rape cases go unreported. That seems to be fairly good odds.' The public outcry has resulted in the website's efforts to clean up its image.
But clearly there is still work to do. In September, Universities UK published the recommendations of a taskforce set up to look at violence and harassment against female students. 'There needs to be a really transparent focus on eliminating this problem,' agrees Nicola Dandridge, Chief Executive of Universities UK.
Sophie hopes this will be the start of a change in the culture. 'I find it difficult to trust men now, so relationships are impossible,' she says. 'I don't want other girls to go through what I did.'
'Sleeping with a girl who had a promiscuous reputation was seen as a dare'
Paul Thomas Bell, 29, from Glasgow, is one of the UK's top dating bloggers
'At uni, my mates were more into perfecting their long, indie hair than girls, but I was very aware of a different type of male student in the vicinity. I saw female students being treated as disposable. Sleeping with a girl who had a drunken, promiscuous reputation was seen as a dare. Female students often get a raw deal for being drunk, but there is no denying that some are defenceless after a few drinks and sadly there are a lot of guys willing to take advantage.
'When I was at uni, unless there was hard evidence, an accusation of rape wasn't taken seriously and, unfortunately, a girl's reputation could go against her. The problem is that although all decent men know that sleeping with a woman against her will is very wrong, there are some blurred lines. A heated moment that gets out of hand? A misunderstanding? I've known guys who've been invited back to a girl's place and when they've questioned how drunk the girl is, she's protested that she's absolutely fine. Half an hour later she's fallen asleep during sex. Afterwards, the guy finds himself questioning whether he just raped her.
'What also concerns me is the number of girls I've met who've confided that they might have been raped, but for whatever reason aren't sure. There is never any excuse for having sex with a woman who does not consent, but some men are wrongly accused – I feel I'd be doing men an injustice by not acknowledging this.'
If you've been affected by sexual assault, you can contact Victim Support by phone (0808 168 9111) or online (victimsupport.org.uk) to speak confidentially to trained volunteers.
Additional interviews by Alexandra Davies
Celebrity news, beauty, fashion advice, and fascinating features, delivered straight to your inbox!
The leading destination for fashion, beauty, shopping and finger-on-the-pulse views on the latest issues. Marie Claire's travel content helps you delight in discovering new destinations around the globe, offering a unique – and sometimes unchartered – travel experience. From new hotel openings to the destinations tipped to take over our travel calendars, this iconic name has it covered.