How to write to your MP about the Gaza ceasefire vote if you're dissatisfied with the result
The Gaza ceasefire motion was rejected on Wednesday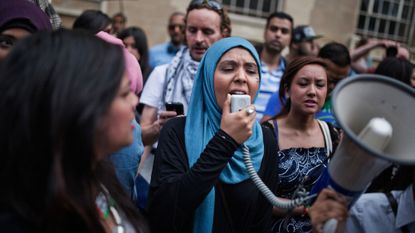 (Image credit: Getty Images)
Watching the horrors unfold from afar as the conflict between Israel and Palestine rages on, many of us are feeling powerless. This is how to write to your MP about the ceasefire vote if you're unhappy with the result.
On October 7th, the devastating attack on Israel by Hamas, a Palestinian militant group left 1400 Israelis confirmed dead and 240 more taken hostage. These innocent victims are yet to be returned to their families. In the weeks since then, as Israel have retaliated, 12,000 Palestinians have been killed and the war wages on with casualties on both sides. Here's our guide on how to help the victims of the Israel-Palestine conflict during this time.
On 15th November, there was a vote in the House of Commons, instigated by the SNP, calling for a ceasefire in Gaza and an end to the violence against Palestinian people. The motion, which called for "all parties to agree to an immediate ceasefire", was rejected in parliament, with MPs voting 293 to 125, a majority of 168, to reject the SNP's amendment to the King's Speech. In a rebellion against Labour leader Keir Starmer, 56 Labour MPs voted in favour of the amendment, defying his instructions to abstain from the vote.
According to stats recorded by YouGov, 76% of the British public supports a ceasefire. Subsequently, there was a backlash from the MPs who voted for the ceasefire. Jess Phillips, Afzal Khan, Yasmin Qureshi and Paula Barker quit their frontbench roles on Wednesday night, while others were sacked from the party after the voting ended.
Leader of the opposition, Keir Starmer, expressed his regret that his colleagues had not backed his position. He said on Wednesday evening: "Alongside leaders around the world, I have called throughout for adherence to international law, for humanitarian pauses to allow access for aid, food, water, utilities and medicine, and have expressed our concerns at the scale of civilian casualties. Leadership is about doing the right thing. That is the least the public deserves. And the least that leadership demands."
If you are dissatisfied with the way your elected representative voted you can write to them to express your concerns.
How to write to your MP about the ceasefire vote
You can write to your MP at any time to let them know if you feel misrepresented or unheard, or if you want to ask questions about decisions made in parliament.
There are two ways you can contact your MP—by letter or by email. The parliment.uk website recommends:
Write a letter to your MP: House of Commons, London SW1A 0AA
Email them using the contact details in our Directory of MPs
It's important to always include your own address when you write to your MP so that they will know you live in their constituency—and can also reply to you personally if they wish.
If you want to find out how your MP voted, the Guardian has pulled together a list of how each elected representative voted in the Gaza ceasefire motion. You can also enter your postcode into the UK gov website to get the details of your representative.
What to write in a letter to your MP on the Gaza ceasefire
If you're struggling to find the right words to write to your MP on the Gaza ceasefire motion, there are templates that will help you get started.
The United Nations Association have devised a template letter for anyone who wants to contact their MP. You can download the template here.
Charities that support a ceasefire in Gaza
These charities are currently supporting a ceasefire in Gaza and offering vital support to those in need.
1. Save The Children
Save The Children has launched an emergency fund to help support children and families affected by the conflict.
The donations received will help towards psychosocial support for those who have lost family members and are impacted by the horrors of war, as well as emergency shelter, hygiene kits and education kits.
2. The International Red Cross
The International Red Cross is a neutral charity that provides assistance during times of crisis. The organisation has pleaded for an end to the violence between Israel and Palestine.
You can donate to the cause here.
3. Medical Aid for Palestinians
Medical Aid for Palestinians (MAP) is a UK-based charity that supports the health and dignity of Palestinians living under occupation and as refugees.
You can donate to MAP here.
We will continue to update this report.
Celebrity news, beauty, fashion advice, and fascinating features, delivered straight to your inbox!
Lauren is the former Deputy Digital Editor at woman&home and became a journalist mainly because she enjoys being nosy. With a background in features journalism, Lauren has bylines in publications such as Marie Claire UK, Red Magazine, House of Coco, women&home, GoodTo, Woman's Own and Woman magazine.
She started writing for national papers and magazines at Medavia news agency, before landing a job in London working as a lifestyle assistant and covers everything from fashion and celebrity style to beauty and careers.