Wedding traditions still as important as ever
Women remain superstitious when it comes to their big day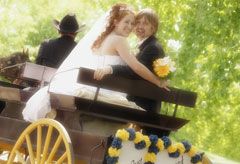 Women remain superstitious when it comes to their big day
Wedding traditions are still as important as ever, with a whopping 78% of women demanding that their new husband carry them over the threshold.
According to the National Wedding Show, the carrying of the new wife over the threshold is believed to bring good luck to the marriage for two reasons.
Firstly, it is supposed to protect the new bride from evil spirits that may be lurking in the couple's home and, secondly, it's thought that if the wife stumbles or trips as she enters the house the marriage could be doomed.
And even if most think it's a load of gobbledygook, it seems they don't want to jinx it!
However, one tradition that appears to have been long forgotten by today's modern lovebirds is the classic 'love, honour and obey' vows, with more than two-thirds of couples now choosing to write their own.
In a panic about your upcoming wedding? Don't worry, here at marieclaire.co.uk we've got everything covered in our one-stop wedding section.
Whether you need helping picking your dream dress, the perfect venue or an unbelievably romantic honeymoon destination, we've got everything you need to plan the big day.
Celebrity news, beauty, fashion advice, and fascinating features, delivered straight to your inbox!