The post break-up 'glow' has been scientifically proven and it's about damn time
Having your heart broken could be the driving force behind becoming a better overall 'you'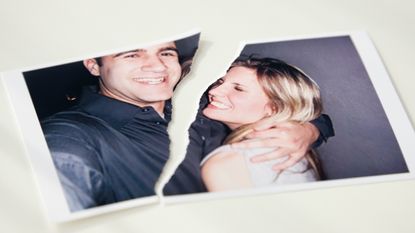 Having your heart broken could be the driving force behind becoming a better overall 'you'
It goes without saying that break-ups completely suck. Whether it's divorce or separation from a long-term partner, the task of re-adjusting to a new life, without that one person you thought would always be around, is one that few of us would ever hope or plan for.
But although its initially painful, there's something pretty amazing about our ability to pick ourselves up and put the pieces back together again. Be it by throwing ourselves into our careers, exploring a new hobby or trying out a different fitness regime (hello, post break-up glow). Everyone remembers that first achievement or happy memory made without any direct link to an ex - and damn it's empowering.
Now new research backs up what most of us already know, that such break-ups could actually be the driving force behind living a more fulfilling life. In a study carried out by Maguire Family Law on over 1,000 divorced adults across the UK, as many as 65% of people revealed there had been an improvement in nearly all areas of their life post break up, with only 9% saying that things had got worse.
This improvement is accredited to what's known as 'post traumatic growth': a positive psychological change experienced as a result of going through a period of adversity.
The idea is that traumatic events, such as the breakdown of a long-term relationship, force people to rise to a higher level of functioning. This reflects positively on nearly every aspect of life, with adults in the study listing changes along the lines of spending more time with loved ones, exploring new interests and living a healthier lifestyle.
The Divorce Coach, Sara Davison has seen a fair bit of this in her career: 'the personal growth following divorce is enormous – it helps people's outlook on life, shifts their mindset and puts them into action. From getting fit, to taking the trip of a lifetime or starting their own business – this proves the age old adage that what doesn't kill you makes you stronger.'
It's also important not to lose hope if it's been a few months and you're still finding single life weird. The average time for experiencing the benefits of post-traumatic growth is 14 months after a serious separation.
Break-ups may be sad and messy, but the new lease of life that they eventually give us cannot be understated. Are you ready for your *glow-up*?
Celebrity news, beauty, fashion advice, and fascinating features, delivered straight to your inbox!
Niamh McCollum is Features Assistant at Marie Claire UK, and specialises in entertainment, female empowerment, mental health, social development and careers. Tackling both news and features, she's covered everything from the rise of feminist audio porn platforms to the latest campaigns protecting human rights.
Niamh has also contributed to our Women Who Win series by interviewing ridiculously inspiring females, including forensic scientist Ruth Morgan, Labour MP Stella Creasy and ITV's former Home Affairs Editor Jennifer Nadel.
Niamh studied Law in Trinity College Dublin. It was after enrolling in a Law & Literature class on her year abroad in Toronto that her love of writing was reignited. In no particular order, her big likes are Caleb Followill, hoops, red wine, sea swimming, shakshuka and long train journeys.