President Zelenskyy's powerful speech to the House of Commons received huge praise
The chamber rose to their feet and clapped the Ukrainian president's speech, which echoed Winston Churchill's wartime words.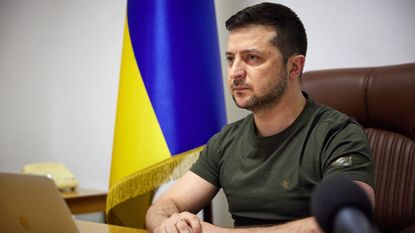 The chamber rose to their feet and clapped the Ukrainian president's speech, which echoed Winston Churchill's wartime words.
Ukrainian president, Volodymyr Zelenskyy has proven himself to be an inspiring and determined leader, who frequently provides impassioned speeches and daily updates on the situation facing his country.
His speech to the House of Commons on Tuesday was no different, with his impactful speech receiving huge praise. His words are splashed across numerous front pages of UK papers today - many commenting on the similarities with Winston Churchill's wartime words.
Addressing a packed House of Commons, which include the prime minister Boris Johnson, via video link, Zelenskyy likened Ukraine's fight for survival against Russia's invasion to Britain's fight agains the Nazis.
In language reminiscent of Chruchill's wartime speech to parliament in 1940, where he famously said "we shall fight on the beaches", Zelenskyy told MPs that Ukraine would fight to the end:
"We will not give up, and we will not lose. We will fight to the end in the sea, in the air. We will fight for our land, whatever the costs. We will fight in the forests, in the fields, on the shores, in the streets."
The Ukrainian president, who told told UK MPs that "Ukrainians do not want to lose what they have– just as Britons did not want to lose their country when it was attacked by Nazis", received a standing ovation. Sir Lindsay Hoyle, the Speaker of the Commons, told Zelenskyy that MPs admired the fortitude shown by him and his people.
Zelenskyy again called for a no-fly zone, asking the UK parliament to "please make sure that our Ukrainian skies are safe."
Johnson, as well as leaders of other political parties, praised Zelenskyy, with Lib Dem leader, Ed Davey even suggesting an honorary knighthood for the Ukrainian president.
Speaking to Zelenskyy after the speech, Johnson said that "never before has the Commons listened to such an address" and declared that the Ukrainian president was "standing firm for democracy and freedom." He also stated that the UK will continue to provide diplomatic, humanitarian and economic help "until Vladimir Putin has failed in this disastrous venture and Ukraine is free once more."
Labour leader, Keir Starmer said: "He's [Zelenskyy] reminded us that our freedom and our democracy are invaluable. He's prompted the world into action, where too often we've let Putin have his way. He's inspired the Ukrainian people to resist and frustrate the Russian war machine."
Today, the defence secretary Ben Wallace announced new shipments of weapons to the Ukraine, but when it comes to the UK's refugee response, there has been mounting criticism.
Shadow home secretary Yvette Cooper slammed "Home Office bureaucracy" for holding up or turning away those in their "time of need". She said: "It is truly dreadful the way that desperate people are being treated."
As the UK government continues with its plans to help those affected by the Ukrainian conflict, we will share key updates.
Celebrity news, beauty, fashion advice, and fascinating features, delivered straight to your inbox!
Amy Sedghi is a freelance journalist, specialising in health and fitness, travel, beauty, sustainability and cycling.
Having started her career in The Guardian newsroom working with an award-winning team, Amy's proud to have reported on a variety of topics, speaking to a range of voices and travelling far and wide to do so. From interviews on ski lifts to writing up breaking stories outside courtrooms, Amy is used to reporting from a range of locations (she's even been known to type up a story in a tent).
She also loves being active, spending time outdoors and travelling - with some of her favourite features she's worked on combining all three. Cycling and eating her way round the Isle of Man, learning to sail on the Côte d'Azur and traversing the Caminito del Rey path in Spain are just some of her highlights.
Covering a diverse range of subjects appeals to Amy. One minute she may be writing about her online styling session with Katie Holmes' stylist and the next she's transporting readers to the basketball courts of Haringey where she joined a group trying to lower knife crime in the capital.
While at university, Amy was awarded The Media Society bursary. Following her stint at the Guardian, Amy worked at Google and as well as writing for Marie Claire, she regularly contributes interviews, features and articles to National Geographic Traveller, The Guardian, The Independent, The Telegraph, Stylist, Refinery29, Glorious Sport, Cycling Weekly and Rouleur.
When she's not writing, Amy can be found trying to get through her towering stack of books-to-read, cycling down at Herne Hill Velodrome or looking for the next place to eat and drink with friends.