Northern Ireland has officially legalised abortion and same-sex marriage
The landmark changes came into effect at midnight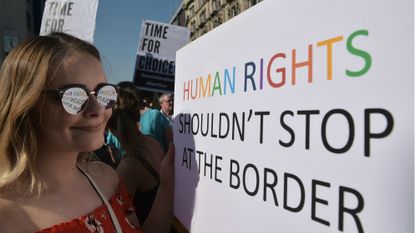 The landmark changes came into effect at midnight
Same-sex marriage and abortion became legal for the first time ever in Northern Ireland today.
The changes came as a result of legislation that was passed by MPs in Westminster back in July, during a Commons debate aimed at keeping Northern Ireland up to date with UK human rights law in the current absence of its government.
It was agreed that if the Northern Irish government had not been reformed by 21stOctober, then the respective bans on equal marriage and abortion would officially be lifted.
The first same-sex marriage ceremonies are set to take place by Valentine's Day 2020, with the government being given up until the end of March next year to come up with regulations for the provision of abortion services.
The progressive changes came just one day after the DUP returned to the Northern Irish parliament, after what has been almost a three year absence, to protest against abortion being legalised. DUP leader Arlene Foster lead the charge by announcing that the party would explore 'every possible legal option'open to it to ensure that the amendment did not pass.
But as of midnight today, it did, and same-sex couples and women alike have been celebrating the historical changes since, with grassroots organisation Room For Rebellion posting this defiant pic on its Insta page to celebrate Northern Ireland's progression.
Same-sex couples and marriage equality campaigners also gathered yesterday at the Merchant Hotel in Belfast to welcome the change, by eating wedding cake and surrounding themselves with flowers, balloons and colourful signs which read 'equal.' The event was organized by the Love Equality campaign group.
What a memorable day for Northern Ireland!! Now just time to get that government back up and running again…
Celebrity news, beauty, fashion advice, and fascinating features, delivered straight to your inbox!
Niamh McCollum is Features Assistant at Marie Claire UK, and specialises in entertainment, female empowerment, mental health, social development and careers. Tackling both news and features, she's covered everything from the rise of feminist audio porn platforms to the latest campaigns protecting human rights.
Niamh has also contributed to our Women Who Win series by interviewing ridiculously inspiring females, including forensic scientist Ruth Morgan, Labour MP Stella Creasy and ITV's former Home Affairs Editor Jennifer Nadel.
Niamh studied Law in Trinity College Dublin. It was after enrolling in a Law & Literature class on her year abroad in Toronto that her love of writing was reignited. In no particular order, her big likes are Caleb Followill, hoops, red wine, sea swimming, shakshuka and long train journeys.