Why the abortion debate is now focusing on Northern Ireland
While debate around abortion in recent years has been centred on America, a parliamentary vote here has now turned the spotlight on the issue in Northern Ireland. Marisa Bate speaks to three women campaigning for change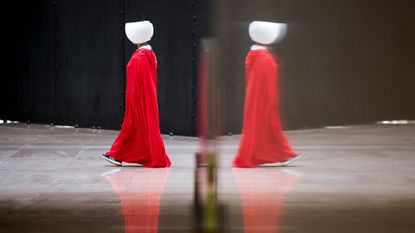 (Image credit: Getty Images)
While debate around abortion in recent years has been centred on America, a parliamentary vote here has now turned the spotlight on the issue in Northern Ireland. Marisa Bate speaks to three women campaigning for change
In recent months, there has been international outcry over the draconian abortion bills being passed in some American states, with Alabama, Ohio and Georgia (among others) recently signing bills to severely restrict women's abortion rights. But what about the abortion crisis in our own backyard? In Northern Ireland, abortion is illegal. Even in cases of rape and incest, it is a crime punishable by life imprisonment, which also extends to the doctors who administer the procedure. But banned abortions don't result in fewer abortions. According to the Department of Health and Social Care, 1,053 women from Northern Ireland travelled to the UK for an abortion in 2018 – which marks a 22 per cent increase on the year before. Clearly, free, safe and legal abortions are desperately needed.
However, on 9 July, a historic window of opportunity opened as an overwhelming majority voted in Westminster for an amendment tabled by MP Stella Creasy, which would see abortion become decimalised in Northern Ireland, falling under the 1967 Abortion Act that currently exists in England and Wales. But, this will only come to pass if Stormont – the currently collapsed Irish Assembly caught in a stalemate – does not restore by 21 October 2019.
In other words, there's still some way to go. If Stormont restores, the issue will fall back to a government that has fiercely opposed abortion. Even if the abortion laws are relaxed, Stormont would have the right to amend them.
Despite the long road ahead, campaigners are celebratory. Grainne Teggart, Amnesty International's Northern Ireland campaign manager, told Marie Claire, 'This is a significant defining moment for women's rights in Northern Ireland. The grave harm and suffering under Northern Ireland's abortion regime is finally coming to an end. At a time when prosecutions are still a grim reality, this cannot happen quickly enough.'
For now, though, that grim reality is still something women are facing. Here, we explore the complexities of the debate through stories of women personally affected by this issue.
'I had to fly alone to England to have a safe, legal abortion'
Karen*, 37, from Northern Ireland, is a mother of two and a pro-choice campaigner
'When I found out I was pregnant for the third time, my kids were six and eight months. I was still on maternity leave and had been suffering with postnatal anxiety. I couldn't sleep, I found it hard to leave the house and had panic attacks. Then, just as I was starting to feel better, I got pregnant. I was terrified of getting pulled back into a black hole that I had barely started to climb out of.
'As a pro-choice campaigner, I always thought I was fighting for this so other women have freedom, but I would never personally have an abortion. And then I was in that position myself. You never know what situation you're going to find yourself in. Straight away I started making calls.
'I spoke to the Abortion Support Network first. I didn't need to ask them for money, but I got really good logistical advice. There's no one else to give you that – you can't get information from GPs, they're too scared to tell you. Next I called the British Pregnancy Advisory Service and booked a clinic in Liverpool. I had to wait a week and, in that time, I went to the Family Planning Association, which has sadly now closed. They were a lifeline.
'My husband couldn't come with me as he had to look after the kids, and I didn't feel I could ask a friend because she would have to take the day off work or get childcare and then pay £180 for the flights. But I really regretted going alone. I left super early and I was back by 6.30pm, in time to give the kids a kiss goodnight, which really struck me. If it was in your own city, it would be such a small thing, yet it felt like such a massive journey because of the impact of having to get up and go somewhere totally unfamiliar. I was scared throughout the entire experience.
'I had to have a surgical abortion because I was flying home that day – pills induce heavy bleeding and pain too severe for travel – but the general anaesthetic freaked me out a bit, so I phoned my husband, then had a bit of a cry. That's when I wished he or a friend had been there. I was in the theatre waiting room with three other women from the UK, and I'll remember that for the rest of my life. In that moment, we all shared our stories. I heard all kinds, from domestic violence to drug addiction. There's such complexity in people's circumstances.
'When I came round, the sense of relief was unbelievable. I felt so grateful. It was amazing to me that all these people work in this place that gives you this incredible gift of being able to walk out of there and get on with your life.
'Between 30 and 35, I was pregnant five times. It was the most intense period of my life. I had two kids, two miscarriages and one abortion. I think people need to understand that is what women's lives are like when we make that decision to have children. That it brings with it all the stuff – the bad with the good.'
'Our clients range from 12 to 53 years old'
Mara Clark is founder of The Abortion Support Network, which is based in England to help women access safe and legal abortions
'In 2002, I was living in New York and I read an article about the women travelling to the city to have abortions because it had a 24-week time limit. They had to pay $2,000 [about £1,600] for the procedure and stay overnight, and some were having to sleep in their cars. The article featured the Haven Coalition, a group of volunteers who let people stay in their homes. Even though I lived in a teeny studio, I began inviting women and girls coming to the city for an abortion to stay. And that's where it all started for me.
'When I moved to the UK, I looked for something similar to support women in Ireland and Northern Ireland, but people were telling me there was just no need for it now there were credit cards and RyanAir, but I knew that couldn't be right.
'So, in 2009, I started The Abortion Support Network with five friends for women in Northern Ireland, Ireland and the Isle of Man. As a charity, we give information on the process, provide travel and accommodation arrangements, pay for abortions and find the cheapest way to make the trip. When someone contacts us, we never ask them how they got pregnant or why they want an abortion, because that is none of our business. After all, rich women don't need to justify themselves.
'Last year, our clients ranged from 12 to 53 years old. Our largest group is women in or escaping from abusive relationships. Reproductive coercion is a big problem: abusers won't use birth control or they sabotage it to keep women pregnant because it's harder for them to leave.
'Every bit of research shows that banning abortion doesn't stop it; it just stops safe abortion for poor women. Because women with money have the ability to travel, and women without money don't. And that's just not fair.
'What makes it an ordeal is you have to get on a plane. The law in Northern Ireland takes what should be a five-minute outpatient procedure and turns it into a 16-hour ordeal. And let's talk about the other obstacles: say they're in an abusive relationship – what happens if they've got children to look after? What if they have insecure work status or have to care for a parent? Abortion highlights the other issues people who are already marginalised face. And that's the difficult part of our work; we can only solve one problem.
'Over the years, we've been told we're hysterical, too politically correct, that we should lighten up. But when Donald Trump was elected, people started saying: "How can I help?" That's what is great about Alabama, and the light it has shone on Northern Ireland. People are saying, "How can I help?"'
' The state hates women'
Emma Gallen is a stall coordinator at Alliance4Choice, a campaign group for abortion rights in Northern Ireland
'I coordinate an information stall in Belfast city centre on Saturday afternoons encouraging people to sign up to our mailing lists and running different campaigns, writing to politicians. When you're on the stall, reactions vary. If some of the pro-life groups are out on the street, people tell us how upsetting they find them. They have images of foetuses and signs that say: "Abortion won't unrape you". Yet, in some ways, they are our biggest recruiter.
'A lot of people approach us to talk about how wrong they think it is that women have to travel, but don't necessarily support abortion. For years, you had to pay for abortions in England. It's only been since 2017 that there's been any funding, and that comes from the government's equalities budget. Scotland, where there are free abortions, is an option but it's not practical: you have to be there for a week, see a GP, then go to a hospital as there's no private clinics. Also, if you're in England, the state pays for some childcare. We don't have that here, which makes things even harder. The state hates women.
'Alongside the stalls, Alliance4Choice also delivers workshops to change the way people talk about abortion. There's also political lobbying of Westminster to keep Northern Ireland's abortion laws on the agenda. For years, we have petitioned them to act; to decriminalise abortion here. The UN has said that Westminster has to act because what women are enduring is torture, not tantamount to torture, but torture. Forcing someone to continue with a pregnancy for 12 weeks when they know the child is going to die or not offering support for rape victims is torture. Awful things are happening. A story came out in the Women's and Equalities Committee inquiry of a 12-year-old rape victim who had to go to England with a police escort so they could collect the foetus for evidence.
'If you're a feminist in England, you can lobby your MP, and they can actually make life better for women in Northern Ireland. But, instead, people protest about Trump or the abortion laws in Alabama and Georgia – and they are not as restrictive as the ones in Northern Ireland. It is frustrating. When people ask me, "Why didn't your government act?" I often reply, "Why didn't yours sooner?"'
Where to find help
Abortion Support Network abortionsupport.org.uk 07897 611593
Marie Stopes International mariestopes.org.uk 24-hour advice line 0345 300 8090
British Pregnancy Advisory Service (BPAS) bpas.org 0345 730 4030
National Unplanned Pregnancy Advisory Service (NUPAS) nupas.co.uk 0333 004 6666
To put pressure on your MP to support the new amendment to decriminalise abortion in Northern Ireland, visit nowforni.uk/email
*Name has been changed
Celebrity news, beauty, fashion advice, and fascinating features, delivered straight to your inbox!
The leading destination for fashion, beauty, shopping and finger-on-the-pulse views on the latest issues. Marie Claire's travel content helps you delight in discovering new destinations around the globe, offering a unique – and sometimes unchartered – travel experience. From new hotel openings to the destinations tipped to take over our travel calendars, this iconic name has it covered.