Muslim father murders his three daughters in honour killing
The Muslim father charged with murdering his three daughters for dating the wrong boys says he would do it again 100 times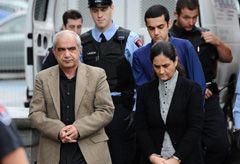 (Image credit: PA)
The Muslim father charged with murdering his three daughters for dating the wrong boys says he would do it again 100 times
Mohammad Shafia has been charged with the murder of his three daughters in apparent honour killings. According to a police recording, the 58- year-old cursed his daughters and likened them to prostitutes.
Mr Shafia is on trial for their murders after Zainab, 19, Sahar, 17 and Geeti, 13, were found dead in the family car along with the defendant's first wife Rona Amir, 50, in the Rideau Canal in Canada in 2009.
'Even if, God forbid, they hoist us on to the gallows, we accept it wholeheartedly,' he said a day after his arrest.
The deaths were spurred by Zainab's marriage to her Pakistani boyfriend, which angered her father and caused family turmoil.
The family were returning from a trip to Niagara Falls when the car ended up in the canal and all the victims were found to have drowned. There was nobody sat in the driving seat.
'May the devil defecate on their graves,' says Mr Shafia. 'Is that what a daughter should be? Would a daughter be such a whore?'
Mr Shafia's second wife, Tooba Yahya, 41, and their son Hamed, 20, are both ontrialwith him facing charges of first-degree murder. All three have pleaded not guilty. The case continues.
Celebrity news, beauty, fashion advice, and fascinating features, delivered straight to your inbox!