Mubarak will stay until the next election
Egypt's President Hosni Mubarak was desperately trying to cling onto power last night amid continuing outcries from protesters demanding his resignation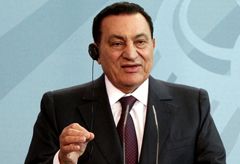 (Image credit: Rex Features)
Egypt's President Hosni Mubarak was desperately trying to cling onto power last night amid continuing outcries from protesters demanding his resignation
Egyptian troops opened fire last night in an attempt to keep tens of thousands of protesters from storming the interior ministry and state-run television and radio stations, crying 'Mubarak, your plane is ready.'
Even as the death toll reached triple figures from the confrontations between security forces and protesters, hundreds of people maintained their stand against president Hosni Mubarak on the streets of Egypt's major cities, defying an army-backed curfew.
The 82-year-old president has appointed his intelligence chief and confidant, Omar Suleiman, to the post of vice-president, indicating a possible succession plan which sees Mubarak's son, Gamal, pushed out as the next leader.
David Cameron spoke with the Egyptian president last night, voicing his 'grave concern' about violence against anti-government protesters in the country, urging him to 'take bold steps to accelerate political reform and build democratic legitimacy.'
He said in a joint statement with French President, Sarkozy and German chancellor, Angela Merkel: 'The Egyptian people have legitimate grievances and a longing for a just and better future.
'We urge president Mubarak to embark on a process of transformation which should be reflected in a broad-based government and in free and fair elections.'
In a speech on state TV, Mubarak said: 'What happened over the last few days forces us to choose between chaos and stability.'
The president announced he will step down but not until the next election, maintaining: 'This is my country. This is where I lived, I fought and defended it's land, sovereignty and interests and I am proud of my achievements over the years.'
The announcement prompted cheers in the capital Cairo, where thousands of people had gathered on the eighth day of protests. The unrest from the demonstrations is being felt across the Middle-East.
Celebrity news, beauty, fashion advice, and fascinating features, delivered straight to your inbox!