The Story Of Ralph Lauren's AW15 Show, By Numbers
50 shades of beige and 43 new silhouettes, but there's only one Kanye West…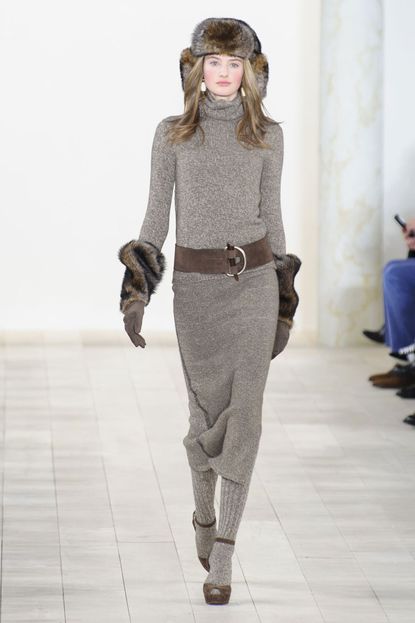 (Image credit: DANIELE OBERRAUCH INFO@OBYPHOTO.)
50 shades of beige and 43 new silhouettes, but there's only one Kanye West…
Fifty shades of beige and 43 new silhouettes, but there's only one Kanye West. This is what happened at Ralph Lauren's AW15 New York Fashion Week show last night...
43 Perfect Neutral Looks Ralph gives a masterclass in tonal winter dressing, working his minimalistic palette of browns, nudes, greys and blacks into no fewer than 43 show-stopping looks. The key, as always, is in his use of fabrics. Layered knits, super-fuzzy trims, shearlings, suede… you name it, and it was piled on thick in one of his luxe texture combos.
See all the images from the Ralph Lauren AW15 show in the gallery above.
1 Front Row Mega-Fan 'Ralph Lauren is God,' Kanye West declared to Style.com pre-show. Well Ralph has walked on water before… But who could have foreseen that this pair would be NYFW's hottest new bromance? Kanye nestled right in with rest of the Lauren family on the front row, and backstage, he was greeted by the designer and his wife Ricky like the fourth child they never had. We love.
A Handful Of Gorgeous Sketches How many other designers do you know that use pure gold paint when they sketch? We're hoping to spot this number on an Oscar winner this weekend.
1 Hot New Manhattan Restaurant To Know About Where to wear Ralph's new-season collection? His brand-new Polo Bar, of course! One of NYFW's greatest businessmen, Ralph's opened his first restaurant in the city – a warm clubhouse serving all the designer's favourite American dishes including beef from his ranch in Colorado. Marie Claire got the lowdown on NY's hottest new eatery – take it from us, it's one to visit.
Celebrity news, beauty, fashion advice, and fascinating features, delivered straight to your inbox!