Henry Holland Talks Us Through His AW15 Uptown Funk Collection
Video: Alexa Chung, Pixie Geldof and Daisy Lowe danced on the FROW at the House Of Holland AW15 show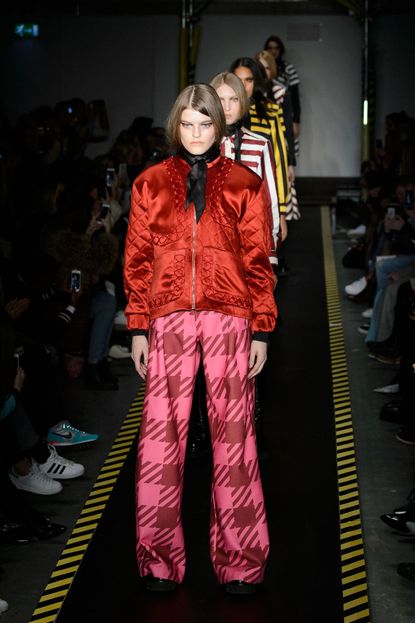 (Image credit: Imaxtree)
Video: Alexa Chung, Pixie Geldof and Daisy Lowe danced on the FROW at the House Of Holland AW15 show
Alexa Chung, Pixie Geldof and Daisy Lowe were dancing on the front row this evening as their BFF, designer Henry Holland, presented his AW15 Uptown Funk collection. Models were processed along a moving conveyor belt, with girl of the moment Sam Rollinson even stopping for a quick boogie with her FROW-side pals halfway round. (Watch the video below). Here, the man himself talks us through his collection…
The Trend Travelator 'The travelator came about a week ago,' Henry told us after the show. 'The original concept was that there would be a moving floor of sorts and then it became this floor about a week ago. I came down to the venue last night and tried it out and I didn't want to leave! It's amazing.'
The Girl Of The Season 'My girl this season was this dark, tough moody girl. She's streetwise but from a futuristic world – I'm referencing films like Blade Runner. Her character definitely evolved as the show developed, she became a lot more direct and graphic.'
Henry's Hot Fuzz 'There's so much fuzz this season,' Henry told us. 'The Mongolian lamb shearling is my favourite. I love designing for the autumn/winter season so much more because I love doing lots of texture and volume like this. I actually find it easier to design. There was so much going on with textiles in this collection – we had the printed wools and the Mongolian lamb skins, but also there were woven tartans and embroidered rubber that made up the high-shine separates. It's very tactile.' See every single look in the gallery above.
The Top Tunes 'Uptown Funk was a fun reference for the finale because the name of the show was Uptown Urchins. The music started off a little more quiet, we had FKA Twigs and then I had to put a bit of Drake and Azealia Banks in there, I couldn't help it. I'm glad it got all the girls dancing.' Watch our video below to see Henry's trend travelator finale, plus catch his front row dancing along to Uptown Funk!
Used in articles
Celebrity news, beauty, fashion advice, and fascinating features, delivered straight to your inbox!