Costa Concordia captain faces 2,500 years in prison
The captain of the shipwrecked Cost Concordia could be sentenced to 2,500 years if convicted of multiple counts of manslaughter, abandoning ship and causing the disaster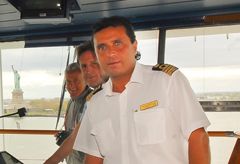 (Image credit: REX)
The captain of the shipwrecked Cost Concordia could be sentenced to 2,500 years if convicted of multiple counts of manslaughter, abandoning ship and causing the disaster
Captain Francesco Schettino is facing 2,500 years in prison after he reportedly left the stricken vessel and watched the rest of the evacuation from shore, causing multiple deaths.
Schettino could face an eight-year jail sentence for each one of the 300 passengers and crew he allegedly left on the sinking ship when it capsized near Giglio island on the 13th January.
The captain could face a further 15 years in prison if convicted of manslaughter, and another ten years if found guilty of causing the shipwreck.
It is now thought that 32 people died in the accident that happened when the 950ft vessel sailed too close to Giglio's rocky coast at the beginning of a week-long Mediterranean cruise.
Prosecutors have argued there is a risk Mr Schettino could try to flee the country, before his trial begins, if he is not kept in prison, but defence lawyers are requesting he is given bail.
'There is no possibility of him committing the crime again because at the moment there is no possibility of him being given command of a ship,' says his lawyer, Salvatore Parascandola. 'We hope the court will free him.'
After a four-hour hearing, the court concluded it will make a decision on Thursday 9th February. Mr Schettino was not present.
Celebrity news, beauty, fashion advice, and fascinating features, delivered straight to your inbox!