X Factor's Simon Cowell 'seething' over Dermot O'Leary fixing claims
The media mogul is on the warpath after host Dermot's controversial comments yesterday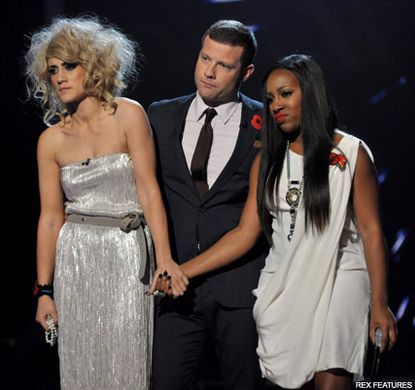 (Image credit: Rex Features)
The media mogul is on the warpath after host Dermot's controversial comments yesterday
X Factor boss Simon Cowell is said to be on the warpath after host Dermot O'Leary's controversial 'fixing' comments yesterday.
X FACTOR TWITPICS: SEE THE STARS BEHIND THE SCENES
The presenter sparked outrage with talk of voting Sunday's show being 'pre-planned', revealing when they found out who was in the bottom two, producers frantically rehearsed Cheryl's no-vote during the final ad break.
'We talked about it in the break because you find out two or three minutes before what's going to happen,' Dermot said yesterday, revealing that was Cheryl was given the option to abstain from voting. 'We thought it might happen when we found out who was in the bottom two. My producer said, "Look, if Cheryl decides to opt out we go to majority vote".'
Now Simon Cowell is said to be 'seething' over the comments - which sparked outrage among X Factor viewers – and has flatly denied the show is fixed.
'Simon is absolutely furious,' one source told the Daily Mail. 'He denies – 100 per cent – that the X Factor is fixed. The fact that some viewers believe this has left him seething.
'He's not particularly happy with Dermot, but to be honest, he thinks the entire thing has been blown out of proportion. He would never want to defraud X Factor fans.'
In the wake of the scandal, Dermot took to Twitter to clear up his comments, which he said had been misunderstood.
'We never know which way the judges are going to vote. Ever. The only thing I know is who's in the bottom two when I'm given the card,' he Tweeted.
'I don't know which judge to go to until I'm called and the judges, including Simon, don't know the vote or who we're coming to next. It's that simple.'
Rumours are already starting to circle that Mr Cowell is planning a shake up to stop scandal on next year's show, and is on the verge of signing a fifth judge, to prevent the even standoff seen this year.
'The idea is 90 per cent a done deal,' an insider told the Sun last night.
'Simon has always thought a guest judge on live shows would bring some extra drama to proceedings. And he hopes they will shoot from the hip and put a rocket under the rest of the judges, who often bite their tongues'
What are your thoughts on the X Factor live shows? Do YOU think they're fixed? Let us know in the comments box below.
SEE ALL THE LATEST X FACTOR PICTURES HERE!
Celebrity news, beauty, fashion advice, and fascinating features, delivered straight to your inbox!