X Factor's Katie Waissel 'at breaking point'
The 'tearful' singer has had to involve police, after receiving sinister death threats from X Factor fans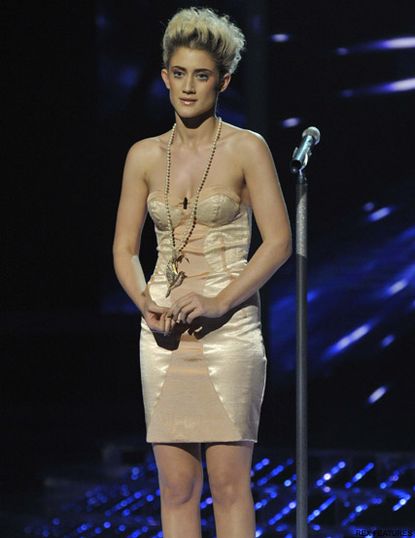 The 'tearful' singer has had to involve police, after receiving sinister death threats from X Factor fans
Controversial X Factor contestant Katie Waissel is said to have reached breaking point this week, after receiving sinister death threats over the internet.
SEE ALL THE LATEST X FACTOR PICS HERE!
After finding herself in the bottom two during one of the first live shows, Cheryl's unlucky protégée has faced weeks of criticism from X Factor fans, who seem to have taken a harsh dislike to the singer.
Now her dad has revealed they've been forced to get the police involved, after Katie received sinister death threats over the Internet.
He's also had to comfort his 'sobbing' daughter, after finding her in tears 'every night'.
'I've had Katie sobbing on the phone to me every night,' Maurice Waissel told the Daily Mail earlier this week. 'She's had death threats sent to her over the internet, and we've had to ask the police to intervene.'
And it seems Katie has been considering walking out on the famous the show altogether, as the public pressure overwhelms her.
'Only the other night, Katie said to me: "Dad, what's the point in going on if everyone hates me." Let's face it, X Factor has become a ¬circus where only the strongest survive.'
Just last week Katie sparked fears for her health, after collapsing during a trip to Topshop with the other contestants, admitting the stress of the show has 'all got too much.'
'It was pretty scary to be honest,' she revealed of her ordeal. 'One thing I was talking to people and smiling for the cameras and the next I was really struggling for breath.
'The next thing I knew I was on the ground. Nothing like that has ever happened to me before and I really have no idea what happened.
'I think everything that has happened over the last few weeks just came to a head and it all got too much for me.'
But it seems judges are desperate to keep Katie in the competition, and have begged her not to quit the show.
'Both Simon and Cheryl have had to give her almost constant counselling,' revealed one show insider. 'She's also been given a bit of time to see friends and family, to keep her spirits up.'
Is Katie Waissel one of your X Factor favourites? Let us know in the comments box below.
THE X FACTOR STARS DO HALLOWEEN
SEE ALL THE LATEST X FACTOR PICS HERE!
Celebrity news, beauty, fashion advice, and fascinating features, delivered straight to your inbox!