X Factor's Cher Lloyd's performance to silence doubters
The singer has branded her haunting Halloween song 'payback' to all people who thought she couldn't sing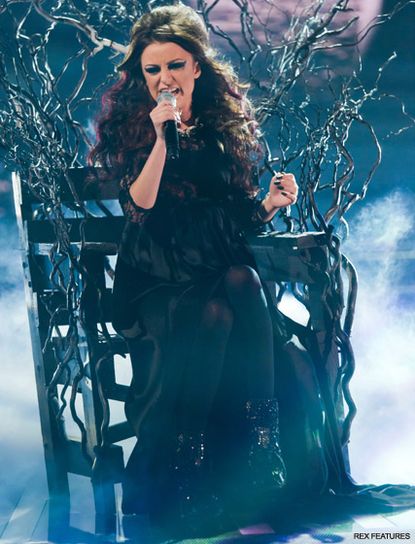 (Image credit: Rex Features)
The singer has branded her haunting Halloween song 'payback' to all people who thought she couldn't sing
X Factor contestant Cher Lloyd has spoken out about her shock performance on last week's Halloween-themed show, branding it 'payback' to all the people who thought she couldn't sing.
SEE ALL THE LATEST X FACTOR PICTURES HERE!
Ahead of the show, the Cheryl Cole-a-like revealed she was planning to wow the audience with a saintly performance, and ditch her 'bad girl rapper' image.
'This weekend's going to be a massive shock and I hope everyone is prepared for it because everyone is used to me being a bad girl rapper,' she said ahead of the show.
'I'm going to twist it up a bit and prove to the other people that maybe haven't liked me as much as my supporters have, to think that actually I'm an alright singer.'
And now Cher has had the last laugh, blasting doubters out of the water, and revealing she thinks her tearful rendition of Shakespears Sister's Stay was her 'best performance ever.'
'Vocally, I thought it was my best so far,' she said. 'It was very, very emotional.
'It was also a bit of payback to people who have been nasty to me, and also to show people I can sing.
'I think I've proved my point now.'
Yesterday the 17-year-old comforted stressed contestant Katie Waissel during an emergency meeting at the Mayfair Hotel, after insiders revealed bosses were considering asking her to 'step aside' from the competition.
Katie's suffered a series of panic attacks following she show last week, and angered other contestants by turning up six hours late for a charity video shoot.
What kind of performance do you think Cher has in store this week? Were you a fan of last week's shock overhaul? Let us know in the comments box below.
SEEE ALL THE LATEST X FACTOR PICTURES HERE!
Celebrity news, beauty, fashion advice, and fascinating features, delivered straight to your inbox!