X Factor denies fix claims after Frankie Cocozza survives elimination
Booed Cocozza manages to stay for fifth week as Ofcom probe into his wild lifestyle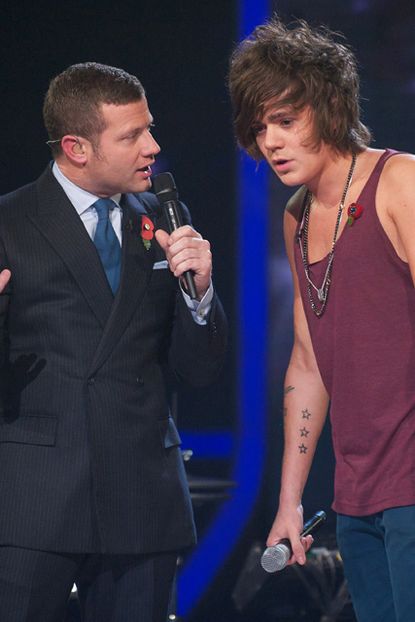 (Image credit: REX)
Booed Cocozza manages to stay for fifth week as Ofcom probe into his wild lifestyle
X factor fans were left furious after singer Frankie Cocozza managed to cling on for a fifth week on Sunday's show, with some slamming the show as a 'fix'. But worried show host Dermot O'Leary yesterday rubbished the claims.
This comes amid more controversy, as TV watchdog Ofcom revealed plans to investigate Cocozza's swearing and glamourising of alcohol and sex.
X Factor host Dermot O'Leary yesterday said 'talk of a fix is a joke' after fans were left baffled at how contoversial Cocozza managed to survive another elimination.
Despite regularly receiving loud boos from the X Factor audience, the Brighton boy managed to stay in the competition for a fifth week, leaving O'Leary to vehemently deny the show is fixed.
Taking to his Twitter page, Dermot told fans: 'Can tell most of you aren't happy, but if the acts don't get the votes they go out. It's that simple. Talk of a fix is a joke.'
But it seems it's not just Cocozza's vocal capabilities that are leaving fans feeling cold.
The self-confessed lothario has been hitting headlines for his antics off screen, falling out of night clubs, and bragging about his sexual exploits - prompting Ofcom to probe an investigation into his glamorising of alcohol and sex.
Last week the cheeky singer admitted he didn't have the best voice of the contestants, telling the Daily Star: 'It's ridiculous that Sophie Habibis has gone and I am still here.
'I'm nowhere near as good a singer as she is - or anyone in the competition, to be honest. It's a singing competition and I'm the worst singer so I should go.'
Are YOU voting for Frankie? Who would you like to leave the show next? Tell us in the box below
Celebrity news, beauty, fashion advice, and fascinating features, delivered straight to your inbox!