Wendy Richard's message to Jade Goody: Don't give up
Eastenders actress sends message of hope to Jade days before she died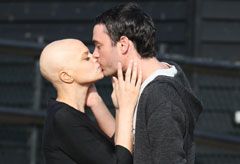 (Image credit: Rex Features)
Eastenders actress sends message of hope to Jade days before she died
Wendy Richards sent a message of hope to Jade Goody just days before she herself died of cancer.
Shortly before she died, the Eastenders actress phoned Jade to congratulate her on her wedding and to wish her luck.
Jade's publicist Max Clifford said: 'Wendy was extremely kind. She knew exactly what Jade was going through and went out of her way to get in touch when her cancer was diagnosed.
'She said: 'Stay strong, I'm thinking of you, we're in the same boat'. Wendy encouraged Jade not to give up. Jade told me she was supportive and lovely.'
Wendy was too ill to attend Jade's wedding on Sunday but phoned instead to send her best wishes.
Max Clifford added: 'Wendy phoned and sent lots of love.
'She said she would have loved to have been there but was too sick. She told Jade she would be thinking of her.'
The actress died yesterday at the age of 65 after a long-lasting battle with breast cancer.
Meanwhile, it has been reported that Jade's new husband, Jack Tweed, is to be allowed to have his curfew suspended so that he can be at her bedside when she dies.
According to a source, plans are being drawn up so that his electronic tag can be removed in order for him to race to her without alarms going off.
The source said that his behaviour at their wedding was a factor in the decision.
'He did not abuse the relaxation of the tagging and the curfew,' the source told The Sun.
'This contrasts with Amy Winehouse's husband Blake Fielder-Civil, who was let out on a tag and then behaved so badly he ended up back inside.'
SEE PHOTOS FROM JADE'S BIG DAY HERE
Celebrity news, beauty, fashion advice, and fascinating features, delivered straight to your inbox!