WATCH: Lea Michele's brand new New Year's Eve trailer
A brand new teaser for the star-packed movie debuted online last night…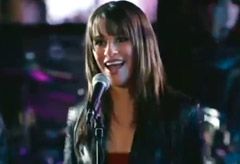 A brand new teaser for the star-packed movie debuted online last night…
From the director who brought us star-packed hit Valentine's Day, New Year's Eve has a cast which reads like a who's who of Hollywood and will be winging it's way onto screens in December.
And now a brand new sneaky snippet of the star-packed movie has landed on our desks – and you can sneak a peek HERE!
For months we've been watching the A-list comings and goings on the movie's New York set, with everyone from Zac Efron and Lea Michele to Halle Berry, Sarah Jessica Parker and Katherine Heigl arriving to take their place in the line-up.
Jessica Biel, Ashton Kutcher, Hilary Swank, Michelle Pfeiffer, Abigail Breslin, Alyssa Milano and Robert De Niro also star in the romantic movie, which follows the lives of a host of couples and singles in the run up to New Year's Eve.
All we can say, it that any film with this amount of stars has just got to be good.
WATCH the brand new trailer here…
New Year's Eve hits screens in December.
Will you be first in line to see the film? Let us know your thoughts in the comments box below.
Celebrity news, beauty, fashion advice, and fascinating features, delivered straight to your inbox!