WATCH! David Beckham's hilarious chat show set up
The footballing star was a great sport when he agreed to play along with show host Ellen's practical joke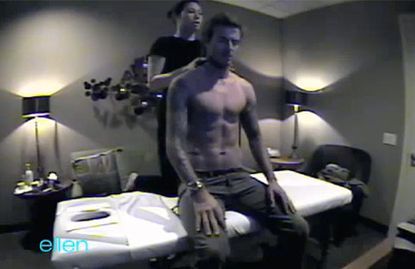 (Image credit: Rex Features)
The footballing star was a great sport when he agreed to play along with show host Ellen's practical joke
Prepare to laugh. A lot. David Beckham was a brilliant sport when he agreed to take part in a set up for US chat show Ellen yesterday, and now we've got our hands on the hilarious video.
Fitted out with a tiny earpiece, the footballing star went along with the host's practical joke, dutifully repeating everything she told him to say to an unsuspecting masseuse, who thought he had just popped in for a massage.
SEE DAVID AND VICTORIA'S BEST MOMENTS HERE!
The side-splitting footage – broadcast as part of his interview on the show yesterday – shows David entering the room and asking the poor beauty worker to call him Ricky.
As she tries her best to move on with the treatment, Mr B interrupts, asking her to 'be quiet for a second,' and suggesting they 'join energy and do some cleansing breaths.'
Moments later, he makes the cringe-worthy declaration that he 'hates thumbs' and asks for a massage using 'index fingers only.'
And that's not all. David also asks the masseuse to hum during the treatment, and (you can clearly see her trying not to laugh at this point) he sings at the top of his voice, to the tune of Happy Birthday.
We have one word: hilarious.
WATCH David's practical joke here
Just HOW he kept a straight face, we do not know.
The poor worker somehow manages to carry on professionally, until David finally reveals the hidden camera and she dissolves into giggles.
SEE DAVID AND VICTORIA'S BEST MOMENTS HERE!
Celebrity news, beauty, fashion advice, and fascinating features, delivered straight to your inbox!