Victoria Beckham's Charity Sale Starts Today: 6 Pieces We'll Fight You For
As Victoria Beckham's mothers2mothers fashion auction kicks off, we run through the iconic pieces we've got our eye on.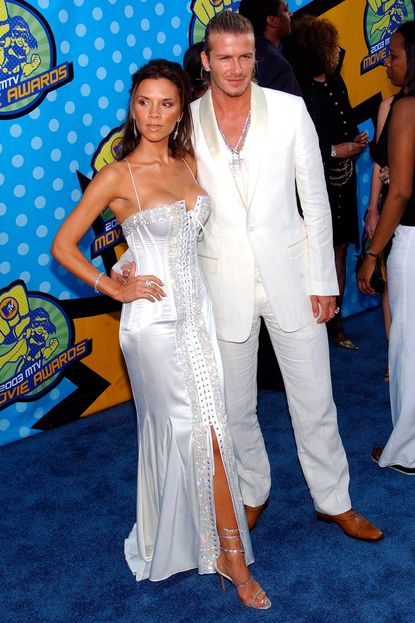 (Image credit: Rex)
As Victoria Beckham's mothers2mothers fashion auction kicks off, we run through the iconic pieces we've got our eye on.
Victoria Beckham is auctioning off over 600 pieces from her heaving wardrobe to raise money for charity and the first two pieces are on sale... now.
The sale, on The Outnet, will raise much-needed funds for mothers2mothers, a charity which trains, employs and empowers Mentor Mothers - who are mothers living with HIV - in order to educate them on how to prevent the transmission of HIV from mothers to babies and improve the health of women and their families.
Victoria has handpicked all the items for the sale, which have also been valued by Christie's, and said: 'I laughed a lot when we were going through my wardrobe as the pieces hold so many happy memories for me, David and the children. A lot of the clothes have been specially designed for me by the most talented designers and I've loved wearing them, however I now feel it's someone else's turn to enjoy them.'
As well as a charity sale, The Outnet is having a special reverse auction (starts today, 20 August), where the starting price reduces by a fixed amount every five minutes, for 10 items that are especially iconic and have a personal siginificance for Mrs Beckham.
Very exciting stuff.
It's time to sharpen your elbows, ladies, because these are the Victoria Beckham fashion relics we will fight you for:
The Dolce & Gabbana dress worn for the MTV Video Music Awards, 2003
This surely was the Beckhams at their his 'n' hers red carpet dressing finest. Victoria's white, crystal-studded Dolce & Gabbana dress, with its rib-crushingly tight corsetry and spaghetti straps, will always have a place in our hearts.
The Roberto Cavalli dress worn for the Beckhams' pre-World Cup party, 2006
Tanned to within an inch of her life, showing plenty of flesh and, most importantly, having an absolute blast, this is the VB we fell in love.
The Alexander McQueen dress worn for dinner with David in Milan, 2009
Always one to be ahead of trends, Victoria was one of the first to rock the optical illusion dress back in 2009.
The Antonio Berardi dress worn for a night out with Katie Holmes and Tom Cruise, 2008
Remember when the Beckhams moved to the States and hung out almost exclusively with Katie Holmes and Tom Cruise? It was a magical time for us and VB's wardrobe.
The Roland Mouret dress worn for a shopping trip in New York, 2012
Now a bonafide fashion designer, VB's signature style had been nailed and honed to perfection by 2012. The Roland Mouret dress, the clever-yet-so-bloody-simple belt and cardo combo, and that clutch. Love.
The Louis Féraud dress worn to the Chanel SS08 show, 2007
To get your hands on these iconic Victoria Beckham looks, plus hats, shoes, bags, jewellery, designer ready-to-wear, costume pieces, coats, skiwear and evening dresses, head to The Outnet now.
Celebrity news, beauty, fashion advice, and fascinating features, delivered straight to your inbox!