'Under the thumb' Russell Brand says his marriage to Katy is normal
The newlywed comedian claims they're just like any other couple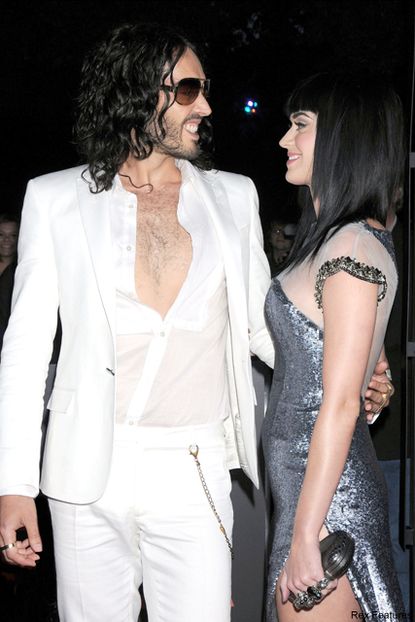 (Image credit: Rex Features)
The newlywed comedian claims they're just like any other couple
They might have had tigers, baby elephants and parrots at their wedding, but newlywed Russell Brand claims that his marriage to Katy Perry is totally 'normal'.
SEE RUSSELL AND KATY'S WEDDING PICS HERE!
In his first interview since the big day, the British comedian told Loose Women of the ceremony: 'It was just normal. It's like a normal wedding.
'Everyone gets all worked up about showbiz and celebrity, but other than the bit where you're on the telly or you're singing a song, it's normal. It's just a normal marriage.'
When asked whether he gave Katy a tiger as a wedding present, Russell joked about the rumours saying, 'I'm a vegetarian, you don't give people tigers, it's stupid, it's dangerous, and the tigers don't like it.'
The happpily married star claims he's already 'under the thumb', with gorgeous Katy Perry even helping him pick what he wears.
'The other day, I put a shirt on and she went, "You're not wearing that shirt are you?"' he said.
'I thought, that's actually happening? That's a thing off a sitcom. That happened in my actual life. I wasn't allowed to wear it. If she says don't wear that shirt, I don't wear it.'
The joker then added 'God knows what she'll do when she finds out I did this', and bared his chest to the highly amused studio audience.
When asked about whether the couple will settle this side of the pond or in America, Russell explained that they didn't know yet. 'I feel unsettled, I'm like a wondering nomad,' he said.
SEE RUSSELL AND KATY'S GLITTERING WEDDING PICS HERE! RUSSELL AND KATY: REALTIONSHIP IN PICS
Celebrity news, beauty, fashion advice, and fascinating features, delivered straight to your inbox!