Twilight nominated for eleven Razzies as Kristen Stewart and Robert Pattinson are shortlisted
Twilight has scooped up a landmark number of Razzie Awards with Kristen Stewart and Robert Pattinson making the worst actor lists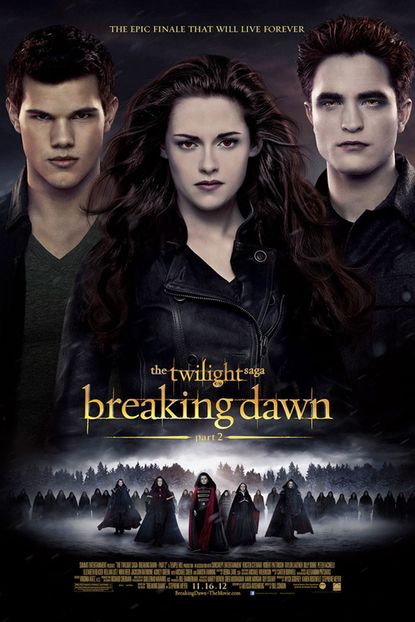 (Image credit: Summit Entertainment)
Twilight has scooped up a landmark number of Razzie Awards with Kristen Stewart and Robert Pattinson making the worst actor lists
While most actors dream of cleaning up at the Oscars, Twilight: Breaking Dawn Part 2 may well be doing exactly that but at the Razzie Awards instead. The final installment of the Twilight franchise has been nominated in eleven categories in the tongue-in-cheek event that celebrates the very worst cinematic offerings of the year.
GOLDEN GLOBES 2013 NOMINATIONS
While the film has received nods for worst picture and worst screenplay, the two main stars, Kristen Stewart and Robert Pattinson haven't escaped being named and shamed as they appear in the leading acting categories.
But they're in good company, Rihanna has also received a nomination for worst supporting actress for her (what we thought were impressive) efforts in Battleship, which has been nominated for seven awards.
The Razzies may be a light-hearted poke at the film industry but the last laugh is most certainly had by the Twilight producers, it's believed the final film took almost $800 million (£498 million) by the end of last year.
It's not thought Rihanna, Kristen Stewart or Robert Patttinson will follow Halle Berry's lead and attend the awards. In 2005 Halle accepted her trophy at the Razzies for worst actress and made a hilarious speech that mocked her previous Oscar win.
The Razzies take place on 23 February, the night before the Oscars.
What do you think of Twilight being nominated for eleven Razzies? Do you think it's unfair? Or is it all good fun? Let us know below.
WATCH! Relive a little Breaking Dawn Part 2 magic and watch our interview with Taylor Lautner:
KRISTEN STEWART AND ROBERT PATTINSON HAVE ROMANTIC DINNER IN LONDON WHAT YOU DIDN'T KNOW ABOUT KRISTEN STEWART AND ROBERT PATTINSON'S RELATIONSHIP
Celebrity news, beauty, fashion advice, and fascinating features, delivered straight to your inbox!