Twilight Breaking Dawn takes $140 million in first weekend
The latest film in the Twilight Saga, Breaking Dawn, has broken the bank raking in a $139.5 million as the fifth best film-opening of all time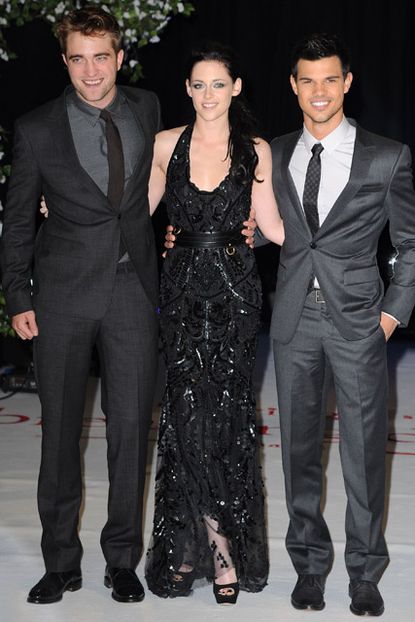 (Image credit: Rex Features)
The latest film in the Twilight Saga, Breaking Dawn, has broken the bank raking in a $139.5 million as the fifth best film-opening of all time
The latest film in the Twilight Saga, Breaking Dawn, has broken the bank raking in a $139.5 million, making it the fifth best film opening of all time.
SEE ALL THE BREAKING DAWN PICS
In it's first weekend, Twilight Breaking Dawn – Part 1 has pulled in over $139.5 million at the US box office.
Despite the big numbers, it's fallen short of the franchise's best weekend opening from the second installment, New Moon, which took an extra $3 million at it's opening weekend back in 2009.
But the film producers still had reason to celebrate as Stephenie Meyer's latest in the vampire franchise produced the fifth best weekend opening ever, behind Harry Potter and the Deathly Hallows Part 2, The Dark Knight, Spider-Man 3 and Twilight's New Moon.
Even though it was expected to have weekend sales of $148 million, the latest in the Bella and Edward romance - which cost $110 million to make - has already made profit of $30 million.
'It's an extraordinarily strong opening, and my sense is it will generally play well for many weeks,' said Paul Sweeney, a media analyst for Bloomberg Industries.
'Hollywood has really been focussing the last several years on franchises,' he said. 'Once Hollywood finds a formula that's working, they play it as aggressively as they can.'
The film viewers were 80% female, perhaps with the boys put off from the romantic wedding, and of course from the gory birth scene to Edward and Bella's half-vampire baby.
The cast, including Robert Pattinson (Edward), Kristen Stewart (Bella) and Taylor Lautner (who plays werewolf Jacob) have been busy promoting Breaking Dawn at the premieres in cities all over to the twi-hard fans.
Unfortunately, even though Breaking Dawn – part 2 is already finished, we will have to wait nearly another year to see the Twilight finale.
If you were like us, you rushed to see the new Breaking Dawn film this weekend. Tell us what you thought of it in the comments box below…
Celebrity news, beauty, fashion advice, and fascinating features, delivered straight to your inbox!