Twilight Breaking Dawn Soundtrack Revealed
The soundtrack album to the new Twilight Breaking Dawn part 1 film has been revealed, including R'n'B singer/songwriter Bruno Mars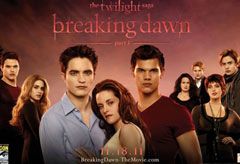 (Image credit: Summit Entertainment)
The soundtrack album to the new Twilight Breaking Dawn part 1 film has been revealed, including R'n'B singer/songwriter Bruno Mars
Making a surprise Twilight-debut appearance on the soundtrack is R'n'B singer/songwriter Bruno Mars with his lead song It Will Rain.
SEE BRAND NEW BREAKING DAWN MOVIE PICS HERE
Mars will be the first to release his single from the album and is joined by the likes of The Noisettes, Christina Perri, and rockers The Joy Formidable, who were particularly surprised by their first place spot on the soundtrack as they have never even read or seen the Twilight series.
British band Hard-Fi feature on a deluxe version with another Bruno Mars track, but Muse, who's songs have become synonymous with the Twilight series, are nowhere to be seen.
It's the first Twilight movie soundtrack not to feature a song by Muse who are the favourite band of the Twilight saga's author Stephenie Meyer, who dedicated her books to them.
Robert Pattinson's songs have also not made the cut on this album. With the lead-actor trying to also make it in the music industry Twilight producers had previously helped him showcase his singing talents on the soundtracks.
Bruno Mars' track It Will Rain will be available as a single in the UK on 31 October. The soundtrack in full will be available everywhere from 8 November, a week ahead of the film release.We can not wait to hear it!
See the full track listing below: Standard Edition 1. The Joy Formidable - Endtapes 2. Angus & Julia Stone - Love Will Take You 3. Bruno Mars - It Will Rain 4. Sleeping At Last - Turning Page 5. The Features - From Now On 6. Christina Perri - A Thousand Years 7. Theophilus London - Neighbors 8. The Belle Brigade - I Didn't Mean It 9. The Noisettes - Sister Rosetta (2011 Version) 10. Cider Sky - Northern Lights 11. Iron & Wine - Flightless Bird, American Mouth (Wedding Version) 12. Imperial Mammoth - Requiem On Water 13. Aqualung & Lucy Schwartz - Cold 14. Mia Maestro - Llovera 15. Carter Burwell - Love Death Birth Deluxe Edition 16. Hard-Fi - Like A Drug 17. Sleeping At Last - Turning Page (Instrumental) 18. Kevin Teasley - Eclipse (All Yours) 19. Bruno Mars - It Will Rain (Video)
Although Muse will be missed by our ears during the movie, we are loving Bruno Mars' take on a Twilight song with the appropriate obsessive-love lyrics. We can just see Edward and Bella dancing to it now...
Celebrity news, beauty, fashion advice, and fascinating features, delivered straight to your inbox!