Tom Hardy 'brutal' in new Batman film
Has Batman finally met his match? Tom Hardy talks 'crushing skulls' and 'brutal' character of Bane, the 'terrorist' he plays in new installment, The Dark Knight Rises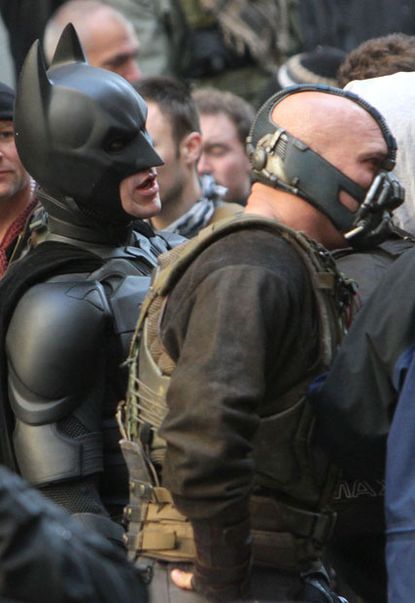 (Image credit: Rex)
Has Batman finally met his match? Tom Hardy talks 'crushing skulls' and 'brutal' character of Bane, the 'terrorist' he plays in new installment, The Dark Knight Rises
Has Batman finally met his match? Tom Hardy talks 'crushing skulls' and 'brutal' character of Bane, the 'terrorist' he plays in new installment, The Dark Knight Rises.
'He's brutal, brutal,' the 34-year old Inception star told Empire magazine. 'He is a terrorist in his mentality…A really horrible piece of work.'
'It's not about fighting. It's just about carnage with Bane. He's a smashing machine. He's a wrecking ball.'
'Anything from small joint manipulation to crushing skulls, crushing rib cages, stamping on shins and knees and necks and collarbones and snapping heads off and tearing his fists through chests, ripping out spinal columns. It's anything he can get away with.'
SEE THE DARK KNIGHT RISES MOVIE PICS HERE
Despite the fact that the film has been given a certificate 12 for cinema release, Hardy says: 'I'm not approaching it with a 12-certificate attitude.'
You don't say, Tom...
The Dark Knight Rises director, Christopher Nolan, chose Hardy personally for the role: 'With Bane, we are looking to give Batman a physical challenge that he hasn't had before. We're testing Batman both physically as well as mentally.'
'Bane's a great sort of movie monster, but with an incredible brain.'
Hardy stars alongside Christian Bale as Batman and Anne Hathaway as Catwoman in The Dark Knight Rises – due to hit our screens in July 2012.
Celebrity news, beauty, fashion advice, and fascinating features, delivered straight to your inbox!