Take That to write biography
Is Robbie Back For Good for forthcoming biog?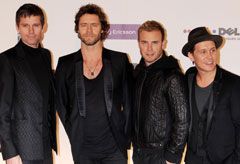 Is Robbie Back For Good for forthcoming biog?
Take That and Robbie Williams are reportedly reuniting to write a long-awaited official biography entitled Now and Then. As reported in The Sun, the ex-Take That singer will join forces with his former band mates to collaborate on a two-volume biography deal, said to be worth a six-figure sum. The biography is allegedly an honest and personal insight into the lives of the five boys, Gary, Mark, Jason, Howard and Robbie, during their time in the band, and is even rumoured to include personal photographs.
Thought to be an avenue the band has wanted to pursue for a long time, a spokesman for the boys said: 'It was important that the timing, as well as the creative idea, was right.'
This collaboration has sparked fresh rumours that Robbie may be rejoining the band. He left Take That in 1995, eventually achieving success in his own right with a string of hits including Angels and Millennium. However, recently he has hinted that there is a possibility he could reunite with the other four.
Despite the tip-off, lead singer Gary Barlow has quashed rumours that the complete Take That line-up will reunite in 2010. Gary recently assured reporters that Robbie would not be collaborating musically with the foursome saying: 'We're a happy band right now. Robbie won't be joining.' A spokesman for the solo artist also stated his focus was 'on his new album'.
ARE YOU A TWITTERER? FOLLOW US HERE
Celebrity news, beauty, fashion advice, and fascinating features, delivered straight to your inbox!
Natalia is a health journalist with 14 years experience in the publishing industry. She has worked for a number of well known magazines and websites including Marie Claire, Woman&Home, Top Sante, Boots and The Telegraph. She likes to think she practices what she preaches when it comes to health and fitness. Her athletic prowess began early. A keen fencer for 13 years, she wielded an epée for Olympic Team GB during her teenage years. She likes to think she made sword-fighting cool before Game of Thrones came along! While working on her sporting performance with the team, she also participated in a lot of nutrition and psychology training, When it comes to time off, you'll most likely find her up a mountain somewhere. It seems holidays have become a time for climbing several thousand feet, rather than chilling out. She's now hiked eight of the major mountain ranges across four continents – including the Appalachians, the Smokies, the Sierra Nevadas (she spent her honeymoon hiking to the top of Half Dome), as well as hitting the summits of Snowdon, Pen-Y-Fan (Brecon Beacons), Table Mountain in South Africa, the Blue Mountains in Australia and the Atlas Mountains in Morocco. She's also passionate about all things health, particularly vaccinations, and will happily jump on her soap box at any given opportunity to talk about their benefits to anyone who will listen!