Sandra Bullock files for divorce
In the first interview since the breakdown of her marriage, Sandra Bullock has revealed she's facing life as a single parent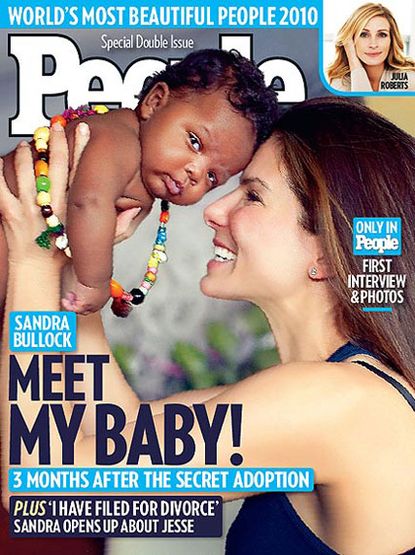 In the first interview since the breakdown of her marriage, Sandra Bullock has revealed she's facing life as a single parent
In her first interview since the breakdown of her marriage, Sandra Bullock has revealed she's filed for divorce.
SEE SANDRA'S STYLE HIGHS AND LOWS HERE
Opening up about the end of her relationship with biker Jesse James, she admitted: 'I'm sad and scared.'
But the star confirmed that she and her husband will be formally separating, simply saying: 'Yes, I've filed for divorce.'
And after revealing her brand new baby son Louis to the world, Sandra is now facing life as a single mother.
Sandra's soon-to-be ex-husband Jesse James yesterday released a statement on the marriage breakdown and adoption.
'My whole life has been full of hard decisions... the decision to let my wife end our marriage and continue the adoption of Louis on her own, has been the hardest,' he said.
'The love I have for Louis cannot be put to words. Not having him around to love and to hold has left a huge hole in my heart.
'Sandy is the love of my life, but considering the pain and devastation I have caused her, it would be selfish not to let her go.
'I ask that you please do not judge Sandy for the things I have done. She has done no wrong. She played no part in any of this. She has been an amazing wife, mother, and best friend, for the over 6 years we have been together.'
In yesterday's interview, Sandra also talked about her decision to keep the adoption a secret for so long.
'I did not want him brought into a world that would not have been too sincere to him as I wanted,' she said.
'I wanted to be alone with him as long as I could, then we had to tell his story.'
What are your thoughts on Sandra's adoption and impending divorce? Let us know in the comments box below.
SEE SANDRA REVEAL ADOPTED BABY LOUIS HERE
Celebrity news, beauty, fashion advice, and fascinating features, delivered straight to your inbox!