Robert Pattinson: 'I am more than Edward Cullen'
The Breaking Dawn star has revealed he's eager to prove himself after the end of the Twilight movies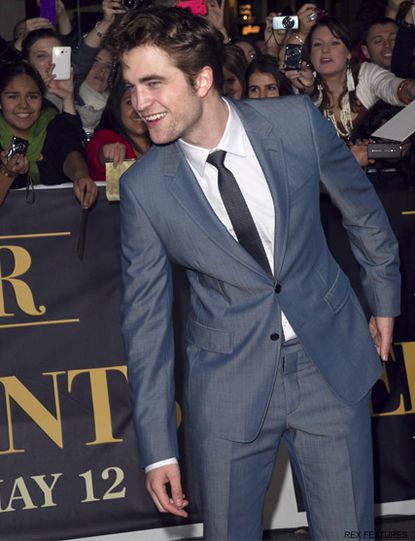 (Image credit: Rex Features)
The Breaking Dawn star has revealed he's eager to prove himself after the end of the Twilight movies
He may be one of the hottest actors in Hollywood, after shooting to fame in the Twilight Saga, but sultry star Robert Pattinson has revealed he's looking forward to shaking off his vampire roots, and proving to fans and critics he 'more than just Edward'.
SEE ROB'S HILAROUS STYLE HIGHS AND LOWS HERE!
Speaking to OK! Magazine Rob revealed he's paid a 'certain price' for playing the leading member of the famous Cullen clan, and will have to distance himself from the role once the Twilight films are over.
'When you're really successful you pay a certain price,' he told the magazine. 'Especially because I've been so successful with Twilight I will probably have to prove for the next 10 years that I am more than just Edward.'
Speaking of how he has struggled to cope with his worldwide success, he revealed even going out to dinner has become a stressful task – as he worries he'll be besieged by fans.
'The other day at a dinner. I was told I would be sitting next to a table with 18 people and my first thought was, "Great, probably a mob of teenagers".'
'But it was 18 Asian children and they didn't know who I was. It was the most relaxed dinner I've had in ages.
Earlier this month, Rob joked that friends no longer invite him out to eat, as it has become so difficult to escape teenage Twi-hards.
'It does make you a bit of a loser,' he told USA today, 'especially when someone asks you, "Hey, you want to go to dinner at this place?"' and I'm like, "Can we have dinner at this other place? It has three exits".'
Would you like to see Rob make a move away from Edward Cullen's character? Let us know your thoughts in the comments box below.
SEE ROB'S HILAROUS STYLE HIGHS AND LOWS HERE!
Celebrity news, beauty, fashion advice, and fascinating features, delivered straight to your inbox!