Robert Pattinson fans fight back against paparazzi
RPatz superfans mount an online protest against imposing paparazzi shots of the Twilight star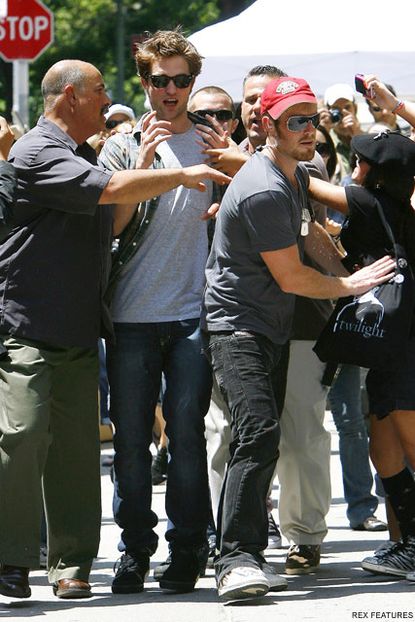 RPatz superfans mount an online protest against imposing paparazzi shots of the Twilight star
Fans of Twilight superstar Robert Pattinson have mounted a giant online protest against paparazzi intrusion into his private life.
This comes after shots emerged of the star leaving the Hard Rock Café in Hollwood over the weekend, amid an absolute frenzy of paparazzi and reporters.
SEE ROBERT PATTINSON'S STYLE HIGHS AND LOWS
RPatz made a dash from the door shielding his face with his hands, and was quickly bundled into a waiting car by burly minders.
The smouldering star shot to worldwide fame, after the unprecedented success of the Twilight Saga.
But since then he has faced constant harassment from paparazzi watching his every move in an attempt to catch some sneaky off-duty shots.
Now loyal fans are fighting back in a bid to try and stop the star from being bothered during his down time.
In a joint effort from a number of fansites, more than 600 fans have posted picures of themselves with their hands covering their faces, imitating Rob's recent forced pose.
'We want the paps to know that we don't want to see pics like these, so stop taking them,' a statement on one website said.
'Stop invading his private life. Enough is enough. Because no person deserves this, celebrity or not.
'There are limits and you have gone too far. He doesn't want this, neither do we!'
Mr Pattinson has just finished promoting the latest Twilight film New Moon, and has already started shooting the third instalment, Eclipse.
So with two - maybe three - films left to go, let's hope the campaign works.
What do you think about this new campaign? Has paparazzi intrusion into Rob's life gone too far, or is it all part of the package? Let us know your thoughts in the comments box below.
SEE ROBERT PATTINSON'S STYLE HISTORY HERE
ARE YOU A TWILIGHT SUPERFAN? TAKE OUR QUIZ TO FIND OUT
Celebrity news, beauty, fashion advice, and fascinating features, delivered straight to your inbox!