Robert Pattinson and Taylor Lautner lock lips at MTV Movie Awards
That's right. The pair enjoyed a steamy smooch after Rob and Kristen collected their Best Kiss award…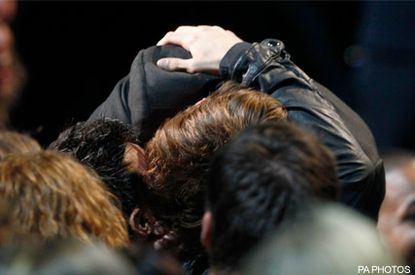 (Image credit: PA Photos)
That's right. The pair enjoyed a steamy smooch after Rob and Kristen collected their Best Kiss award…
Last year, Robert Pattinson and Kristen Stewart were the talk of the MTV Movie Awards, as they celebrated their Best Kiss win with a very public on-stage smooch.
But this year, there was no such PDA. Instead, after accepting his award alongside rumoured girlfriend Kristen, Rob ran into the crowd and treated co-star Taylor Lautner to a sneaky snog instead.
MTV MOVIE AWARDS: ALL THE PICTURES
Rob and Kristen picked up the ceremony's hotly anticipated Best Kiss award for the third year running, for their sizzling smooch in the Twilight Eclipse movie.
The pair beat off competition from Emma Watson and Daniel Radcliffe, Natalie Portman and Mila Kunis, and also Taylor Lautner – for his Eclipse kiss with Kristen – to take home the prize.
And it seems Rob didn't want his werewolf pal to miss out on any of the action. To the audience's delight, Team Edward and Team Jacob were on the same side for once, as R-Patz bounded off stage and landed a steamy smacker on muscly co-star Mr Lautner.
Luckily, Kristen Stewart didn't seem to mind. In fact the starlet – who sizzled in a red spiked mini – seemed to find the whole thing hilarious.
After the event, Rob, Kristen and Taylor's co-stars certainly had plenty to say on the matter.
'It was about damn time, man,' Cullen clan member Jackson Rathbone told MTV news. 'It's been up in the air for about three years now. I think we've all been waiting for Rob and Taylor to kiss.'
'We knew it was coming, and finally it did. Finally, they acknowledged their love for each other.'
Cheeky duo Peter Facinelli and Kellan Lutz joked: 'They asked us to show them in practice. We taught them everything they know.'
Last year, Rob and Kristen turned heads with their awkward Best Kiss acceptance, which R-Patz afterwards admitted, 'didn't work.'
'I was telling everyone, 'Listen, just leave it to me, I've got it all under control,' Rob told MTV last year. 'I was telling everyone all these ideas. I gave them a whole selection and no-one thought they were funny, so then we ended up doing something which didn't work.'
Did it work this year? Are you disappointed Rob and Kristen didn't kiss? Let us know in the comments box below.
MTV MOVIE AWARDS: ALL THE PICTURES
WATCH: BRAND NEW BREAKING DAWN TRAILER
ROBERT PATTINSON AND KRISTEN STEWART: RELATIONSHIP IN PICS
Celebrity news, beauty, fashion advice, and fascinating features, delivered straight to your inbox!