Robbie Williams reveals new comeback look
Swoon alert! Robbie slims down for new album comeback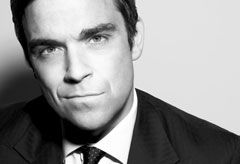 (Image credit: Julian Broad)
Swoon alert! Robbie slims down for new album comeback
Robbie Williams may have recovered his power to make women go weak at the knees as he unveils a rather handsome new look for his career comeback. Returning to his well-groomed, Swing When You're Winning roots, Robbie appears noticeably slimmer in the new promotional pictures, with boyish side-swept hair and wearing a classic black suit.
The solo singer announced yesterday his comeback album will hit shelves in October. Entitled Reality Killed the Video Star, it will be the eighth studio album from the ex-Take That artist.
With famed producer Trevor Horn – who has teamed up with The Petshop Boys and Simply Red in the past - behind the forthcoming release, high hopes surround the singer's return to the music scene.
Robbie has been sighted sporting a beard and looking larger than usual in Los Angeles in the last couple of years and has become better known for his obsession for chasing UFO's than for his music offering.
However, after a hiatus Robbie is focused on making a splash – with his image as well as his vocal chords.
The singer revealed he has been following a strict new diet plan that consists of 'not eating anything you like' in a bid to drop the pounds before he hits the limelight.
Speaking to the The Sun newspaper, Robbie confessed: 'I've been a food ninja now for over two months. Food ninja-ry consists of not eating anything you like.
'No cake, no crisps, no chocolate. Surprisingly easier than I thought it would be. Well, easy when you've got a record coming out and you don't want to look like the Michelin man.'
Robbie's new single, Bodies, is out on 12 October. His album follows on 9 November.
MISSED ROBBIE? SO HAVE WE. CHECK OUT BEHIND-THE-SCENES FOOTAGE FOR HIS NEW VIDEO BELOW:
Celebrity news, beauty, fashion advice, and fascinating features, delivered straight to your inbox!