Robbie Williams 'injects libido boosting hormone twice a week'
The Take That singer was told he had the testosterone levels of a 100-year-old man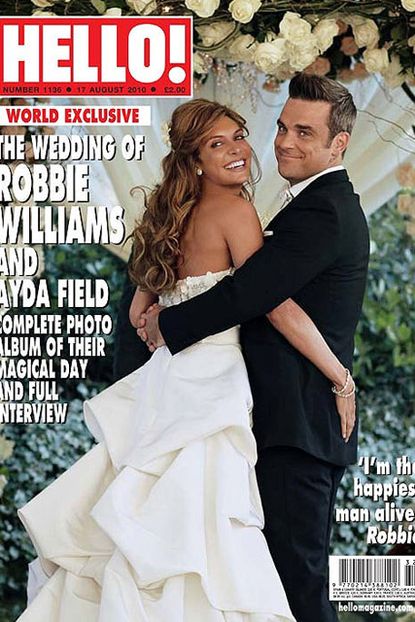 The Take That singer was told he had the testosterone levels of a 100-year-old man
Take That singer Robbie Williams has revealed he injects himself with a libido boosting hormone twice a week, after being told by doctors he had the testosterone levels of a 100-year-old man.
SEE ROBBIE'S WEDDING PICS HERE!
Rob's bizarre revelations came during a new interview with Esquire magazine, in which he explained he visited Hollywood medics to ask for Human Growth Hormone, used to slow down the aging process.
Instead doctors identified low testosterone levels, which often lead to lethargy and a poor sex drive.
'I went to get some HGH. It's what all the old fellas are on out there in LA that's making them look 40 instead of 60,' Robbie revealed.
'It's improving their health, their memory, their hair, skin.
'Could give you cancer. I weighed that up. Thought I'd have it anyway. Went to see a Hollywood doctor. Had my blood tests. Went back. He said, "You don't need HGH. You've got the testosterone of a 100-year-old man."
'And then everything made sense. It was kind of an epiphany that day,' he added.
'It has changed my life. I feel I'm getting a second wind.'
The usually private star, who sat beside wife Ayda throughout the interview also spoke about hisglittering 2010 wedding, held in Los Angeles.
'It was a very simple affair. Just about 40 people, a good group of friends. Just people that dig me and Ayda,' he said of the special day.
'No best man, no bridesmaids, no rehearsal, no going round to her dad to ask if it was OK. She got to dress up in a princess dress and look amazing. And I got to tell her I was going to look after her.
'She loves me because I'm me,' he added. 'I'm quite charming, easy going, good company, loveable. We're a team. And you think differently as a team.'
SEE ROBBIE'S WEDDING PICS HERE!
Celebrity news, beauty, fashion advice, and fascinating features, delivered straight to your inbox!