Revealed: Why Lance Armstrong and Sheryl Crow split
Lance Armstrong reveals the reasons behind the break-up.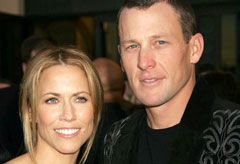 (Image credit: Rex Features)
Lance Armstrong reveals the reasons behind the break-up.
Lance Armstrong is finally opening up about his relationship and break-up with ex-fiancée Sheryl Crow.
In new book Lance, published this July, Armstrong tells how Crow's ticking biological clock became an issue in their relationship.
The cyclist revealed: 'She wanted marriage, she wanted children; I didn't want that at that time because I had just gotten out of a marriage, I'd just had kids.'
The seven-year age gap (Crow was 41 and Armstrong 34) simply proved too much for the Tour de France champion and in 2006 they announced their break-up, just weeks before their wedding.
The singer went on to adopt a two-week-old boy in May 2007 who she named Wyatt Steven Crow. The mum and son duo now live on a 154-acre farm outside Nashville.
Meanwhile the cycling star came round to the idea of playing daddy again just two years later when it was announced that girlfriend Anna Hansen was pregnant. The pair's baby is due next month.
ARE YOU A TWITTERER? FOLLOW US HERE!
BECOME A MARIE CLAIRE FACEBOOK FAN HERE
Celebrity news, beauty, fashion advice, and fascinating features, delivered straight to your inbox!
Natalia is a health journalist with 14 years experience in the publishing industry. She has worked for a number of well known magazines and websites including Marie Claire, Woman&Home, Top Sante, Boots and The Telegraph. She likes to think she practices what she preaches when it comes to health and fitness. Her athletic prowess began early. A keen fencer for 13 years, she wielded an epée for Olympic Team GB during her teenage years. She likes to think she made sword-fighting cool before Game of Thrones came along! While working on her sporting performance with the team, she also participated in a lot of nutrition and psychology training, When it comes to time off, you'll most likely find her up a mountain somewhere. It seems holidays have become a time for climbing several thousand feet, rather than chilling out. She's now hiked eight of the major mountain ranges across four continents – including the Appalachians, the Smokies, the Sierra Nevadas (she spent her honeymoon hiking to the top of Half Dome), as well as hitting the summits of Snowdon, Pen-Y-Fan (Brecon Beacons), Table Mountain in South Africa, the Blue Mountains in Australia and the Atlas Mountains in Morocco. She's also passionate about all things health, particularly vaccinations, and will happily jump on her soap box at any given opportunity to talk about their benefits to anyone who will listen!