Prince Harry in new racism row after remarks to comedian Stephen K Amos
Prince Harry told comedian 'you don't sound like a black chap'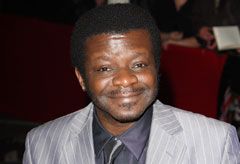 Prince Harry told comedian 'you don't sound like a black chap'
Prince Harry has sparked a new racism row after allegedly telling comedian Stephen K Amos that he didn't 'sound like a black chap.'
Harry apparently made the remark after the stand-up show We Are Not Amused for the Prince of Wales' 60th birthday celebrations in November 2008.
Speaking on Five's The Wright Stuff on Tuesday, he explained: 'Harry said, "Hello, tell me, amusing… but you don't sound like a black chap."'
He added: 'I wanted to say, "How is I supposed to sound?"'
When asked if the remark had been made in jest, he replied: 'I hope it was.'
The comedian put the comment down to a poor attempt at making banter, but fellow panelist on the show Lowri Turner said: 'That's not the point.'
Harry is already in hot water after it emerged that he referred to a Sandhurst colleague as 'our little Paki friend' and that he, Charles and Prince William affectionately refer to an Indian polo club member as 'Sooty'.
His latest gaffe has inevitably upset equality groups.
'Many young people will be disgusted by his remark – how is a black man meant to sound?' Naomi Byron, national secretary of Youth Against Racism in Europe, told the Mirror.
'But it is not just Prince Harry that is at fault. The aristocratic, rich circles he moves in obviously don't have a problem with this kind of racist stereotyping.'
CLICK HERE FOR MORE CELEBRITY NEWS
Celebrity news, beauty, fashion advice, and fascinating features, delivered straight to your inbox!