Poppy Delevingne on Beyonce using make-up to support Barrack Obama in the US election
EXCLUSIVE! The model talks to Marie Claire about how nail art is the perfect form of expression, even for politics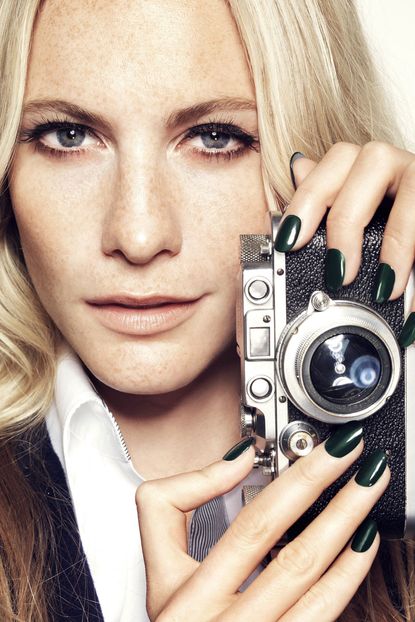 (Image credit: Nails inc)
EXCLUSIVE! The model talks to Marie Claire about how nail art is the perfect form of expression, even for politics
Beyonce, Eva Longoria and Katy Perry have rallied round to support Barack Obama in the US presidential election in their own unique ways. Katy Perry performed in a dress emblazoned with a poll card with Obama's name selected, while Beyonce had his name painted on her nails.
RACE TO THE WHITE HOUSE HEATS UP ON LAST DAY OF CAMPAIGNING
Ahead of the US voting day on 6 November, Marie Claire asked model Poppy Delevingne, who is fronting Nails Inc's latest campaign, what she thought of Beyonce making such a statement with her hands.
Poppy told us: 'Make-up is seen as a form of expression, so why not use it to express your ideals and thoughts? I think you can be as daring and as bold as you like when it comes to nail art.'
Aside from using your nails to show political support Poppy was keen to stress the fun side of nail art telling us: 'I had Oompa Loompa faces on my nails once, but that's only because I love Willy Wonka - they made me laugh every time I looked at them.
'Sometimes the more garish nails, the better. Next week I'm getting palm trees. Just because...'
BEYONCE SHOWS OFF NEW FRINGE AT BASKETBALL GAME
Nails may be a new move for the model whose previous fashion credits run from Louis Vuitton to Julien Macdonald as well as Burberry. But she feels suitably at ease with the focus being away from her incredible figure and onto her hands.
Speaking of the new venture she told us: 'I've always been a complete nail junkie, nail art is so accessible and so affordable, much more so than an expensive lipstick or eye shadow.' Although it you want to break the beauty rules and wear lighter shades in winter (and so you should) Poppy has one word of advice: 'Bright colours always look better though on shorter nails, one tip I've picked up along the way...'
And what are Poppy's beauty predictions for next season? 'We're going to be seeing bright bold bonkers lips with minimal eyes,' she tell us. 'And with nails, happy healthy well-kept fingers in pretty colours.'
We like the sound of that!
CARA DELEVINGNE CONFIRMED FOR VICTORIA'S SECRET SHOW SUPERMODELS THEN AND NOW
Celebrity news, beauty, fashion advice, and fascinating features, delivered straight to your inbox!