Peter Andre wants a quick divorce
Peter Andre hoping for 'quickie' divorce after Katie's latest lewd holiday snaps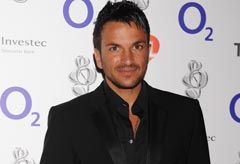 (Image credit: Rex Features)
Peter Andre hoping for 'quickie' divorce after Katie's latest lewd holiday snaps
Peter Andre has reacted to pictures of Katie Price holidaying with her new lover by saying he is pushing for a 'quickie' divorce. According to reports in The Sun newspaper today, the photos of Jordan draped over new love Alex Reid at her holiday pad in Marbella have incensed Andre and prompted him to demand a speedy divorce settlement.
Yesterday pictures surfaced of the glamour model lazing poolside with cage fighter beau Reid. Price appeared virtually nude as she bathed in nothing but a pair of string bikini bottoms.
Andre has lashed out at his estranged wife's latest overt public display saying: 'Does she have to flaunt her new relationship in their [the children's] faces, when they are still so, so young and don't understand what's going on?'
The Aussie singer revealed to the tabloid that he is gunning for a divorce 'sooner rather than later'.
With an array of lewd holiday snaps to choose from, Andre could use any against his wife in court, jeopardising Price's chances of gaining child custody.
What is likely to weaken Katie's case even more is the suspicion that she and lover Reid have been in contact and texting one another for over a year.
Meanwhile, Peter played the good father card again this week when he was spotted taking the pair's children fruit picking in West Sussex.
A spokesman for Andre commented last night: 'Peter would like to see Jordan acting sensibly and not being pictured like this. Peter would never let that happen.'
Celebrity news, beauty, fashion advice, and fascinating features, delivered straight to your inbox!