Michelle McGee invites Sandra Bullock for meeting
Jesse James's 'other woman' Michelle McGee has invited the Oscar-winner to meet her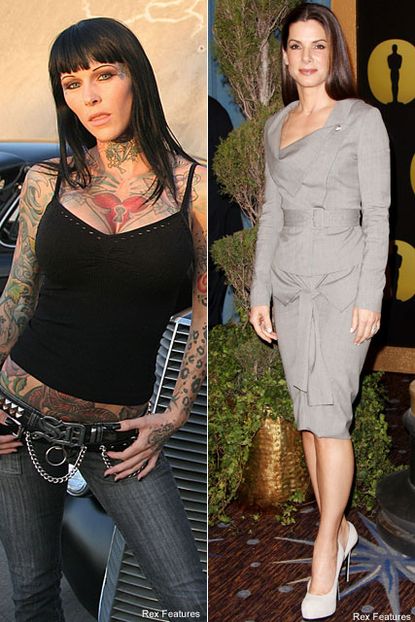 (Image credit: Rex Features)
Jesse James's 'other woman' Michelle McGee has invited the Oscar-winner to meet her
Jesse James's mistress Michelle McGee has invited Sandra Bullock to meet her.
SEE SANDRA'S STYLE HISTORY HERE!
As the hurt and scandal roll on for Oscar-winner Sandra, Jesse's 'other woman', a tattoo model and stripper, has suggested they meet to discuss her affair.
And it's been revealed Michelle thinks she can help Sandra through the turmoil of her marriage break up.
'I would like to sit down with Sandra and speak one-on-one,' she told Life & Style.
'I'd let her ask me questions, and I would be honest and open with her about the affair. If that would help her heal, I would do it.'
We can only image what Sandra thinks of the suggestion.
The tattoo model has already apologised to Miss B, simply saying: 'I'm sorry'.
'Sandra, I'm sorry for your embarrassment,' Michelle said during a TV interview.
'I'm sorry all this is public. I'm sorry for everything.'
But it seems with this latest suggestion, she wants to take it one step further.
What do you think of Michelle's meeting suggestion? Would it help Sandra thought the break up? Let us know your thoughts in the comments box below.
MORE SCANDALOUS CELEBRITY SPLITS
SEE SANDRA BULLOCK'S STYLE HISTORY HERE
Celebrity news, beauty, fashion advice, and fascinating features, delivered straight to your inbox!