Marie Guerlain interview
Read Marie Claire's exclusive interview with the artist and philanthropist on being inspired by Victoria Beckham and sympathizing with Kate Middleton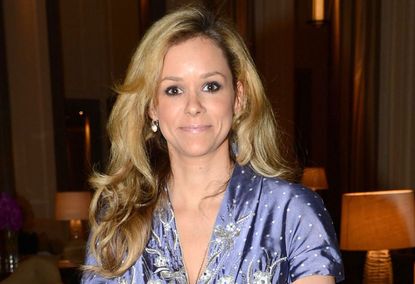 (Image credit: Rex)
Read Marie Claire's exclusive interview with the artist and philanthropist on being inspired by Victoria Beckham and sympathizing with Kate Middleton
Famed initially for being part of the fragrance family Guerlain, Marie Guerlain has focused her efforts into the art world and endless charity work. Marie Claire caught up with Marie to discuss which designers inspire her art, how she gets celebrities involved in charity work and her thoughts about the future of the fragrance industry.
The art and fashion worlds are heavily interlinked, do you ever look to the catwalk for inspiration? I love fashion and find it's incredibly inspiring. When it comes to my own art I draw inspiration from so many different places. Artists such as Picasso and Frieda Kahlo are a huge influence, and in terms of fashion and art, I would consider the two very heavily linked as both industries mirror one another season by season.
Which looks have you enjoyed from Spring/Summer 2013 fashion weeks? Dior has been consistently sensational this year. Victoria Beckham, Alberta Ferretti, Donna Karen and Pinko are all designers who particularly inspire me.
Kate Middleton revealed she's inundated with requests from charities, can you sympathise with her? It's very difficult and I often find myself torn between supporting animal conservation, planet conservation and children's causes. But the children's causes are that which I have decided to concentrate on for the time being.
Angelina Jolie is famed for her humanitarian efforts, do you believe that the rest of Hollywood should follow suit? My opinion is that you can't force people to do anything in life. If it comes from the heart then that's the best way to do anything, but in terms of celebrities and charity, it really is a matter of choice for the individual.
It sometimes feels as if the future of the beauty industry lies in celebrity partnerships with brands, how do you feel about that? It's just the way of today, and tomorrow may bring a new trend. One has to bend like a reed in the wind. Brand and celebrity partnerships are nothing new, but the beauty industry will always have its institutions which stand the test of time. More and more celebrities are creating scents and if not that then starring in ad campaigns, does that matter to you? Not really, there is plenty of room on this earth for everyone.
Marie is currently working in partnership with the London Serpentine Gallery on its Future Contemporaries initiative that supports up-and-coming artists. She has recently become a patron of the Marie Collins Foundation. See marieguerlainart.com
Celebrity news, beauty, fashion advice, and fascinating features, delivered straight to your inbox!