Madonna to launch global gym chain
The famous songstress is planning an empire named Hard Candy Fitness, coming to major cities around the world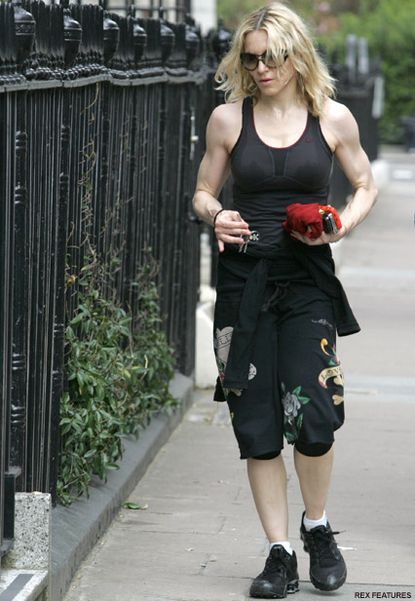 The famous songstress is planning an empire named Hard Candy Fitness, coming to major cities around the world
Superstar Madonna has revealed she is planning to launch an international chain of fitness centres, to help fans around the world get into shape.
SEE MADONNA'S STYLE HISTORY HERE!
The renowned gym bunny, who's empire will be called Hard Candy Fitness, will be involved in 'all aspects' of the new gyms, helping to choose the equipment, lighting and even music the gym-goers listen to while they work out.
In a statement to fans, a spokesman confirmed the gyms are set to open 'in major cities around the world', with the first to be launched in Mexico next month.
'Hard Candy Fitness will be a reflection of Madonna's point of view and will reflect her input on every detail, including music space, light and other design cues,' said Mark Mastrov from 24 Hour Fitness, an expert working on the launch with his compay, New Evolution Ventures
'Madonna's touch will be everywhere.'
It's thought the muscley songstress - who is certainly no stranger to
the gym herself - will attend the opening of the first centre herself,
and dictate the locations of future gyms according to her fan base.
In the summerMadonna reportedly fell out with celebrity pal Gwyneth Paltrow over personal trainer Tracy Anderson.
'It's good that she doesn't train Madonna any more,' Ms Paltrow said in an interview, making a little dig at the singer. 'It was too much. She keeps people waiting - it takes up your whole day.'
Will you be first in line to sign up to Hard Candy Fitness if it launches in the uk? Let us know your thoughts in the comments box below.
SEE MADONNA'S STYLE HISTORY HERE!
Celebrity news, beauty, fashion advice, and fascinating features, delivered straight to your inbox!