Madonna: 'My Glee episode is genius'
It's official: Madonna is a Geek!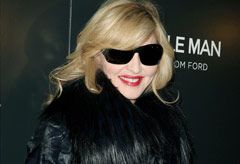 (Image credit: Rex Features)
It's official: Madonna is a Geek!
Hit US show Glee already has its fair share of celebrity fans, but now it can add Madonna to the list.
Yes, the queen of pop is officially a Gleek!
This comes after the cast have recorded a one-off Madonna episode in her honour.
WATCH GLEE'S SUE DO MADONNA'S VOGUE!
The star has officially given the go-ahead to the use of her tracks, branding the show 'genuis' after being treated to a special preview showing.
The star gushed about the episode in a recent interview with US Magazine.
'I thought the Madonna episode of Glee was brilliant on every level,' she said.
'The dialogue and the entire script was genius. I completely appreciated the layers of irony, especially when all those macho boys sang What It Feels Like For A Girl,'
Madonna also revealed she watched the episode with her kids, and loved 'all the messages about boys being respectful to girls.'
And her teenage daughter Lourdes is a massive fan of the show.
'Lola loved the show too. I wish I went to a high school like that... If only,' she said.
Are you looking forward to Madonna's super-special episode of Glee? Let us know thoughts in the comments box below.
WATCH GLEE'S SUE DO MADONNA'S VOGUE
Celebrity news, beauty, fashion advice, and fascinating features, delivered straight to your inbox!